Buy for Good Honey Candle Greeting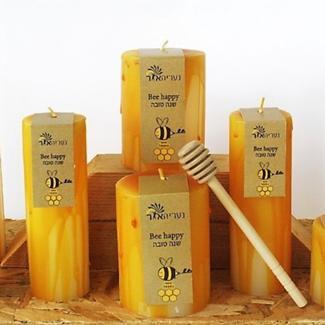 Buy For Good is proud to partner with The Israel Forever Foundation on this meaningful Rosh Hashanah gift opportunity. Israel Forever is an engagement organization that develops and promotes experiential learning opportunities to celebrate and strengthen the personal connection to Israel as an integral part of Jewish life and identity. By participating in this effort you can send a gift from Israel to your friends and loved ones for a sweet new year while providing employment opportunities to at risk youth. It's a beautiful way to Show Israelis You Care and bring a smile to the faces of your recipients.
Just pick your candle, proceed to checkout, enter the shipping address and add a personal note with your friends e-mail. we will ship it to your loved ones and wish them a sweet and happy new year.
Candle designed as it was glazed in honey releases sweet honey scent
Two sets available:
One "Piccolo" Honey candle, 2″ tall for a special price of just 8$ (including shipping)
Two "Piccolo" Honey candles, 2″ tall for a special price of just 11$ (including shipping)
***Keep away from children and from inflammable materials and don't leave a burning candle unattended (candle doesn't contain any real honey).

---
Recommended for you:


---
FEEL ISRAEL AT HOME