Send a Chanukah Message to Lone Soldiers in Israel!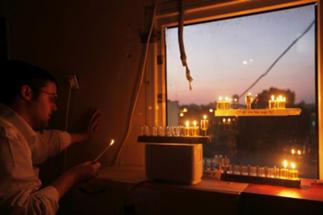 How would you celebrate Chanukah if you were thousands of miles away from family and friends?
The young men and women who have moved to Israel independently to serve in the Israel Defence Forces find themselves in exactly this position. Only, they aren't off traveling somewhere random in the world, nor isolated from a Jewish community thus missing out on Chanukah entirely.
No, Lone Soldiers are living and breathing and serving in the very land for which the Maccabees fought for Jewish sovereignty. They don the uniform, get the training, and join the native born Israelis in becoming our modern-day Maccabees.

In Israel, Chanukah is not celebrated with the giving of gifts. Latkes (potato pancakes) and sufganiyot (jelly-filled doughnuts) are the sweet and oily treats enjoyed by everyone, as we sit amid the glow of the burning lights and enjoy the singing of the traditional songs. And there are numerous programs that do all they can to provide for the soldiers a meaningful and uplifting Chanukah experience.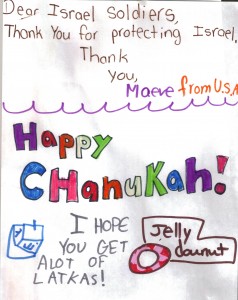 At this special time of year, let's show these brave soldiers that we all recognize the challenges of being so far away from their family and friends. Send them your holiday wishes, put a smile on their face and remind them how much they are appreciated for their motivation, courage and strength.

With your kids, your friends, your community, combine your creativity with a heartfelt message and create a Chanukah card, video, or share a photo - any personal message of thanks and holiday cheer that will be shared with as many lone soldiers as possible through our wide network of grassroots partner organizations here on the ground in Israel.
This is a great way to teach your kids love for Israel, and to teach them that the legacy of the Maccabees continues on today as we salute our soldiers, our watchmen on the wall.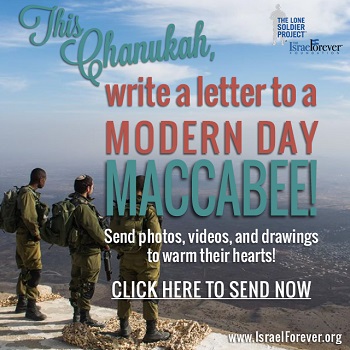 ---

Chanukah, Oh Chanukah! Let Your Light Shine On!