Connecting With Israel Every Day
by Arnie Singer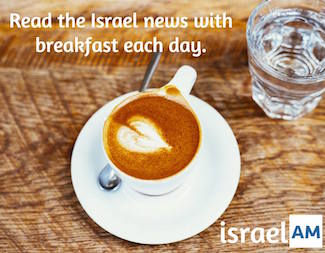 Living in the US, I've always been an avid follower of Israel news. Staying informed about Israeli current events always helped me feel connected in mind, even if I couldn't actually be there in body. But keeping up with the Israel news on a daily basis was difficult given my busy schedule. I'm pretty sure you can relate.
There's no shortage of online Israel news sources, in English and Hebrew, that cover all political spectrums. But reading even a fraction of them each day would take several hours. So I'd usually end up reading an article here and there -- usually whatever my Facebook friends decided to share. It wasn't ideal, but at least it was something.
THE BIG IDEA
It was on a trip to Israel almost 2 years ago that I had my "big idea". What if I could read through the news publications and summarize the main stories in one short email that people could read in just a few minutes every morning? I'd also read through the Hebrew sources to include those stories that don't always make the English press but that English readers would find interesting.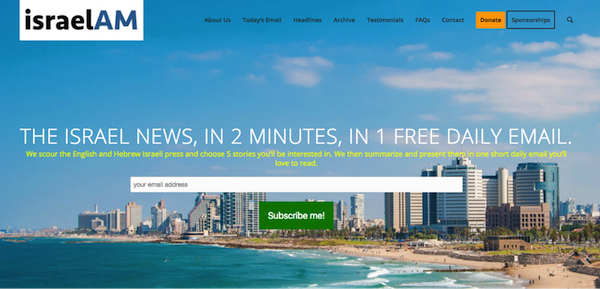 I discussed it with my wife Natalie, who analyzed the news as a political officer at the British Embassy in Tel Aviv for 7 years, and she loved the idea. It would take lots of dedication, hard work and early mornings (to get the daily email out by 8am NY time, or sooner), but we decided that it was well worth it because it would help English readers in the US and throughout the world stay connected to Israel every day.
In July of 2015, while visiting family in Modiin, we came up with the name IsraelAM, built a website, set up an email server and launched our new project. Almost two years later, thousands of readers throughout North America and the world get their Israel news through our daily newsletter. While most of them are in the US, we also have readers in Canada, Israel, UK, EU, Australia, France, Switzerland, Cyprus, Poland, Austria, Germany, Mexico, Costa Rica, Philippines, Romania, South Africa, New Zealand, and the list keeps growing.
HOW IT WORKS
In the wee hours of the morning we scour the English and Hebrew Israeli press to find the stories we think you'll find interesting. We make the greatest effort to keep our newsletter fairly balanced politically, although always pro-Israel. Our sources include Haaretz, Jerusalem Post, NRG.co.il, Yediot Ahronot, Maariv, Walla, Yisrael Hayom, Globes, JTA, Reuters, Associated Press, Channel 2 News, Channel 10 News, Arutz Sheva, Charedim 10 and the Times of Israel.
Once we identify our stories (usually around 5) we summarize them so you can get the information you need quickly and easily. Then we format the newsletter in a way that makes it easily readable on all devices, and off it goes. It's a ton of work but from the glowing testimonials and messages we get from our readers, we think it's well worth it. For many IsraelAM is their only source of Israel news. By reading it they are connecting to Israel, and that's our goal.
While I can't reveal the identities of any of our readers, I can tell you that many prominent Jewish leaders, including members of the US and Israeli governments, read IsraelAM daily. We also have a small but material number of Christian readers, including clergy.
TAKE AWAY
The thing I'm most proud of is that we've been able to create an important Israel related resource read by thousands all on our own, without the backing of any major organization. We just decided one day that we wanted to do something to help people connect with Israel -- and we did it. The lesson is clear and powerful: you don't need to be be big to make good things happen. If you have an idea and the will to make it work, you can make it happen.
Let us know what you come up with!
To subscribe to IsraelAM, click HERE.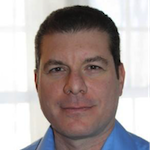 Arnie Singer is a writer, rabbi, marketer and founder of IsraelAM, a daily Israel news email that you can read in less than 2 minutes. He believes in balanced reporting and telling it like it is.



---
Recommended for you...
---
STAY CONNECTED NO MATTER WHERE YOU LIVE