The Elie Wiesel You Should Know
by Daniel Fein
Elie Wiesel was one of the most well-known Jewish leaders for over 4 decades. What was so special about him that he was honored and revered by so many?
Here are the things everyone should know about this incredible role model.
---
Elie Wiesel was the embodiment of the essence of Holocaust memory. He was the first to popularize the term Holocaust as the name by which to refer to the attempted extermination of Europe's Jews by the German Nazis and their collaborators, henchmen, supporters and bystanders throughout the world who enabled the systematic murder of nearly 7 million innocent Jewish men, women, and children in the death factories and mass killing pits.
Elie Wiesel's premiere work and memoir Night was published in 1958 and was followed up by Dawn and Day, both fictional sequels. Wiesel published over 60 books in the remainder of the 20th century touching on a range of subjects from Chasidism, Soviet Jewry, Jewish identity and humanism in the experience of suffering. Orson Welles wanted to make Night into a feature film, but Wiesel refused, feeling that his memoir would lose its meaning if it were told without the silences in between his words.
Elie Wiesel was considered by many a moral compass for humanity. Elie Wiesel believed and taught about the universal relevance of the Holocaust, borne from the unique Jewish experience of persecution and dehumanization. He believed that the Jewish experience in the Holocaust should be a message for all of humanity as to the potential for evil and good in mankind. He used his leadership to fight for human rights for all peoples, and created his Foundation for Humanity out of his vision for making a difference in the world.
Wiesel was humanistic in his existential philosophy, but was not opposed to divinity. He was deeply influenced by the Torah, Jewish faith, practice, and values and believed these to be a conduit for others to become more human.
Wiesel's message was one of moral obligation. He believed that we as human beings must be willing to act for the sake of human rights at all costs, and he fought for the rights of Jews and non-Jews all across the world. For his tremendous body of work and activism, he was awarded the Nobel Peace Prize in 1986 for his unrelenting dedication towards speaking up in the name of justice around the world.
He was involved with Jewish causes and human rights causes and helped establish the United States Holocaust Memorial Museum in Washington, D.C. He was described as "the most important Jew in America" by the Los Angeles Times in 2003.
Wiesel campaigned for victims of oppression and the plight of refugees and persecuted citizens. From South Africa, Nicaragua, Kosovo, Sudan, and drew global attention to the victims of the Armenian Genocide and to the rights of Soviet and Ethiopian Jews. He was considered "one of the most important spiritual leaders and guides in an age when violence, repression, and racism continue to characterize the world".
Elie Wiesel's voice was iconic, as was his persona and his presence. Those who had the honor and privilege to meet with him were forever impacted by his quiet strength and his powerful passion for learning, writing, speaking.
Elie Wiesel was a joyful and loving friend. He found laughter in the little moments, and encouraged others through his gentle and supportive messages of positivity and hope.
Wiesel's presentation of Jewish morals is the foundation for much of how people understand and act upon justice and injustice today. He believed the idea that the Jewish People are the conscience conscious of the world from which those morals were shaped. He believed that respect for the Jews would be the only possible antidote to the endless recycling of hate and antisemitism.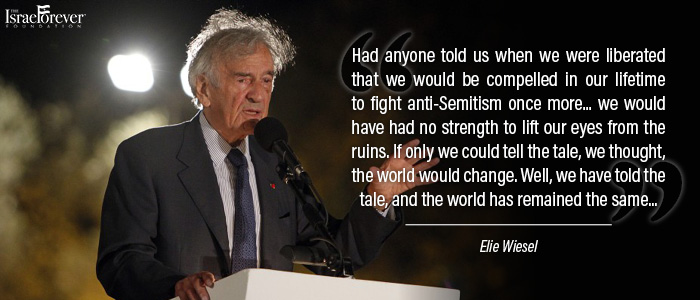 Elie Wiesel was nominated twice to serve as the President of Israel, but felt his place was needed in the Diaspora where he could best serve the needs of the Jewish world and the advancement of Israel's acceptance among the family of nations and the community of humanity.
Elie Wiesel was a teacher, whose love for his students knew no bounds. Any person who ever studied with him was transformed through the experience. His teachings continue to be shared by those who carry on his legacy, such as by Elana Heideman, Guila Kessous, Yoel Rappel, Alan Rosen, Nechemia Polen, Deborah Katchko Gray, Rabbi Joe Kanofsky, Reinhold Boschi, Ariel Burger, and many others. He was a professor of the humanities at Boston University, which created the Elie Wiesel Center for Jewish Studies in his honor, but he spoke at universities and institutions throughout the world to thousands of audiences of listeners and heirs to his message.
---

QUESTIONS FOR REFLECTION

Elie's love of words began in his childhood in Sighet, through the learning of Torah and the reading of literature and philosophy from a young age. How do you think this may have helped him during the years of suffering in the Holocaust? 
Elie was in search of his purpose and pursued many opportunities to have a voice for those who perished while also fighting for the future of the living Jewish world. How did Elie have the strength to keep going in spite of the many challenges faced in trying to make a difference? 
What was unique about his personality that helped him on his mission? Many speak of Elie's presence, his quiet determination, his powerful insights and immense wisdom. Have you ever met anyone who embodies these values? What are some values or qualities that make a great leader, either that Elie or another inspirational figure possess?
What solutions to evil does Elie Wiesel offer?
Is teaching the Holocaust still relevant? Should the way we teach the Holocaust change in order to meet the psyche of today's youth? In strategy and in tactic? How does Elie's impact affect Holocaust memory and education, now and for the future?
How can hearing the voice of Elie Wiesel help you understand the impact he had on listening audiences? 
How does Elie Wiesel cover the Holocaust differently than other survivors who have published on the topic?
Elie was an unknown writer for many years, and wrote 65 books by the time of his passing at the age of 87. Each one tells a different story from a different angle of Jewish experience. How many of Elie Wiesel's books have you read? Why do you think most of his books are unknown, and what can you do to make sure more people read his works?
Interested in running a program about Wiesel in your community? Contact us for original resources, or to book a presentation by Dr. Elana Heideman, one of his prized students.
---
Recommended for you: