A 21st Century Exodus: Dina's Journey From Alexandria to Jerusalem
By IDF Blog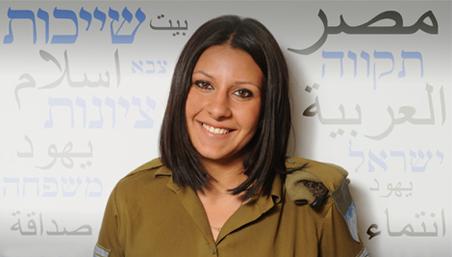 Copyright © IDF Spokesperson's Unit
This isn't Cpl. Dina Ovadia's first Passover in Israel. Slowly, slowly she seems to be moving away from her Egyptian past and becoming further ingrained in her Israeli present. Instead of thinking about her bittersweet childhood in the Egyptian city of Alexandria, Cpl. Ovadia fills her time with her army service and in preparing her home in Rimonim for the Passover holiday.
Today it is possible to say that she is far more Dina Ovadia than she is Rolin Abdallah – the name her family gave her as a security measure for a Jew living in an Arab country. But Dina herself grew up totally unaware of her Jewish heritage.

Dina's childhood detachment from her heritage gives unique meaning to every Shabbat candle she lights now, to every Jewish holiday that she did not know. And Cpl. Ovadia's story is the Passover story, thousands of years old, expressing itself again in the 21st century.

Dina recalls how she tried to find herself among the troubling mix of religions.
"We had a mosque next to the school, and the girls would go there to pray. I told this to my mother, slightly anxiously, and she was very angry. They forbade me from doing it again. I remember that I was hurt, and I started to tell them that because of that they won't like us, and that I wouldn't have any friends. It was the anger of a child. During Ramadan I would escape to my friends houses, and I even fasted on one of the days, because I always wanted to belong to something and I didn't have a clear answer for what I was," explains Dina.
When she told her parents that she had tried praying in a church, that didn't make them any happier. They distanced her from every religion, without giving an explanation as to why.

The turning point occurred on a day like any other. Dina was studying for a history test, her brother and cousin were playing on the computer upstairs, and her mother, aunt and sister were also at home. Suddenly the sounds of shouting and shattering glass cut through the calm routine. "I really panicked, and immediately I thought that because we were different they had come to our house. I went outside and saw five masked faces – they were Salafists." Five bearded men in robes, with clubs in their hands and rifles slung over their shoulders, broke through the electric iron gate at the entrance to the grand family home and demanded to know where the men of the house were. Their explanation was as simple as it was incomprehensible: "A'lit el'Yahud" – a Jewish family.

Her grandfather gathered all of his family together and he revealed the truth. "He explained why he kept us from other religions and told us that we were Jewish, and we that we had little time to leave Egypt. He told us we were going to Israel."
Read the rest of the article on the IDF Blog.
---
Keep up with every new Israel Forever story on Facebook and Twitter and encourage your friends and family to join in the conversation!
---
Recommended for you:
---
YOUR ISRAEL CONNECTION FOR PASSOVER