Giving Away Your Kidney Can Save Both Your Lives
By Judy Firestone Singer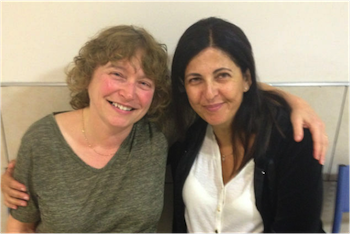 You donated what?!
Every once in awhile, there comes an event in life which changes everything.
In October of 2013 I was admitted to the vascular surgery ward at Rambam Hospital in Haifa, where a surgeon removed my right kidney and transferred it to the body of Rena, a woman from Haifa near my own age, who had suffered from a severe kidney disease for a decade.
Since receiving my kidney Rena has returned to a normal, productive life.
The surgery was the result of quite a long journey which has come to be something of a vocation, a trek that has taken me far from my comfort zone. I have been permitted a small glimpse into the lives of people for whom taking care of their health is a full-time job, and who yearn for something that most of us feel entitled to automatically – the right to take good health for granted.
My connection to kidney transplants began when I by chance, saw an American friend's article online, who had come to Israel on sabbatical and decided during her stay to donate a kidney to a stranger. I was deeply and inexplicably moved by this article, which explained her reasons and motivations for donating - primarily a "pay it forward" approach to life and good works.
Even before I reached the end, I knew that I was interested in donating a kidney someday, if it turned out to be at all possible. I started doing some research on the subject, but realized that the timing was all wrong due to a new job. I put the project on a back burner, but a few months later it resurfaced in my head and I started to check it out more seriously.
What I found out was this: in Israel there are about 845 people on the waiting list to receive a donor kidney. Although recently the number of Israelis with donor cards has increased, there is still a severe shortage, and many people spend years being kept alive by dialysis, which severely impairs their quality of life.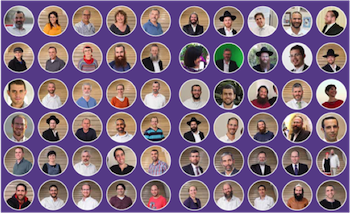 Every year people on the transplant list die while waiting their turn. Some patients find a living donor among their relatives or friends, but this is uncommon in Israel. Over the past seven years, largely due to the efforts of a non-profit organization called "Matnat Chaim" (Hebrew for "the gift of life") which was established to encourage non-directed living kidney donations, the number of live donations has skyrocketed, and over 315 successful surgeries have taken place since 2009. The unprecedented success of our efforts has turned Israel into a world leader in living donation, appropriate for a country that is really just one big family.
An organ from a living donor is the "gold standard" in kidney transplants, and has a higher success rate than kidneys from deceased donors; these kidneys also last longer, on average, in the recipient. A living donor has to be absolutely healthy, and is required to submit to a significant battery of tests to prove his or her physical and mental health. The donor also has to convince quite a lot of people that s/he understands the implications of the decision to donate; that no one is pressuring him to do anything against his will; and that he is not engaging in any activity that could possibly be interpreted as organ trafficking. In Israel the rules are especially strict, and I had to convince a social worker, a psychologist, a psychiatrist and a panel from the Ministry of Health of my good intentions.
Kidney donation is considered very low-risk surgery for the donor, with few long-term complications, and has a very high rate of success for the recipient. In most cases, the recipient's life is immeasurably improved, and he returns to the world as a relatively healthy person with a more or less normal lifestyle.
As I gathered more and more information and got deeper into the process, I found the donation was becoming more and more important to me, and my self-identification as a donor more intense. I met some awe-inspiring people – for instance, the ultra-Orthodox rabbi from Jerusalem, himself a kidney patient, who has dedicated his life for the past few years to voluntarily running the "Matnat Chaim" organization; he is personally responsible for saving over 300 lives. I have made contact with dozens of kidney donors, many of whom volunteer to be advisors for people undergoing the donation process. I have met doctors and other medical staff who spend years selflessly caring for kidney patients, and patients who bear their suffering in quiet dignity. I am extremely grateful that I had the ability to do an unusual mitzvah and literally save someone's life.
Our lives are enriched by a surfeit of material blessings and most of us understand and respect the need to help the less fortunate by giving of our money and our time. A person who is blessed with good health may feel thankful, but may not realize that even good health is something that can be shared with others. I can testify that the lengthy donation process and my subsequent involvement in Matnat Chaim have immeasurably enriched my life and have given me a feeling of satisfaction so immense that I sometimes feel I donated my kidney purely for selfish reasons.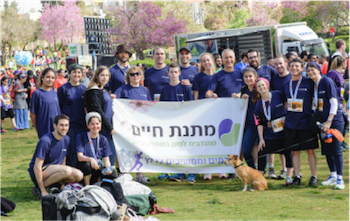 Since donating, I have been asked over and over to explain why on earth I would do such a thing. In my answer I generally mention my own community, where so many people are involved in doing good, both on a communal and a personal level, that I have been inspired to find my own way of giving back.
Although I initially thought to keep my donation private, as some donors do, I changed my mind when I remembered that my original inspiration to donate came from reading someone else's story. I'm pleased to report that quite a number of people have read or heard about my donation and been inspired to consider kidney donation for themselves. Every transplant saves a life and shortens the waiting list for everyone just a little more.
There are many kinds of mitzvot, and countless ways to help others in need. I believe that we shouldn't rank good deeds, but rather should be thankful that different people have different interests and goals, and prefer one project rather than another. I picked kidney donation, and it doesn't seem to me to be particularly difficult or heroic. I hope that each of us is able to identify his or her own path to making a difference in the lives of others.
For more information about kidney donation, Matnat Chaim, and how you can contribute, either by donating a kidney or donating funds, please visit our website HERE, look for us on Facebook (Hebrew or English), or contact me by email: judy.matnatc@gmail.com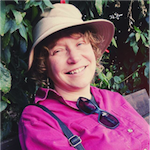 Judy Firestone Singer moved to Israel in 1983 and lives with her husband and 3 daughters on Kibbutz Merav in the rural north. In 1983 she donated a kidney to a stranger; since then she has been active in the Matnat Chaim organization which recruits and supports living kidney donors.



---
Recommended for You:
---
What Israel Story do You have to Tell?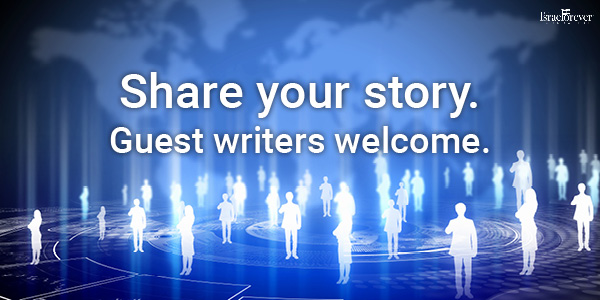 Submit your experience HERE