Holocaust and 'Hatikvah': A Song of Hope in a Time of Despair
By Rafael Medoff, JNS.org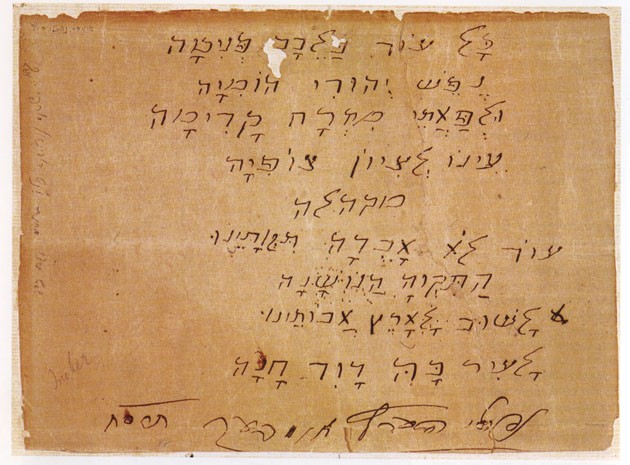 A national anthem written more than 50 years before the birth of the state for which it was composed, "Hatikvah" has served as a source of hope and inspiration for Jews who have found themselves in the most dire of circumstances. During the darkest hours of the Holocaust, Jews defied their tormentors by singing the song's powerful lyrics.
'The SS could not stop them'
Filip Muller was a Sonderkommando in Auschwitz—a Jewish slave laborer who was kept alive because he helped take corpses from the gas chambers to the crematoria. One of the very few Sonderkommandos to survive the Holocaust, Muller later described the remarkable behavior of one group of Czech Jews who were being marched towards the gas chambers and were told what was about to happen:
"Their voices grew subdued and tense, their movements forced, their eyes stared as though they had been hypnotized… Suddenly a voice began to sing. Others joined in, and the sound swelled into a mighty choir. They sang first the Czechoslovak national anthem and then the Hebrew song 'Hatikvah.'"
Enraged SS men tried to halt the singing by beating the Jews into submission, Muller wrote. "It was as if they regarded the singing as a last kind of protest which they were determined to stifle if they could." But the SS was unable to stop them. "To be allowed to die together was the only comfort left to these people… And when they sang Hatikvah, now the national anthem of the state of Israel, they were glancing into the future, but it was a future which they would not be allowed to see. To me the bearing of my countrymen seemed an exemplary gesture of national honor and national pride which stirred my soul."
Overwhelmed by feelings of remorse, Muller tried to join the group as they entered the gas chamber, but they pushed him back out. A woman implored him, "Your death won't give us back our lives. That's no way. You must get out of here alive, you must bear witness to our suffering and to the injustice done to us."
'Despite it all they sang'
Jan Michaels was a 23 year-old Polish Jewish pilot who was shot down in 1944 and imprisoned near what he called "a forced labor camp in Silesia" (German-occupied southwestern Poland). Michaels managed to escape, and his eyewitness testimony about the mistreatment of the Jews reached the West in November of that year.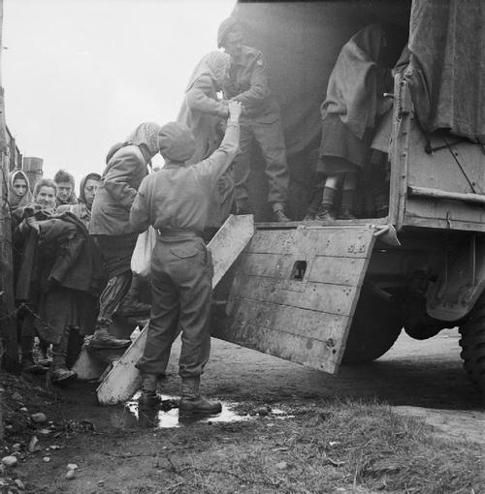 Copyright © Imperial War Museums
Michaels reported that 300 Jews between the ages of 18 and 25 were being held in the slave labor camp. "The prisoners, who came from France, Holland and other European countries, were forced to work inhuman hours in the freezing cold, although they received little food and were clothed in rags," according to news reports relaying his account. "Persons who became ill feared to report to the camp infirmary because they knew that it meant death."
"Despite their mistreatment, the youths maintained their morale," Michaels said, and he "could frequently hear the strains of 'Hatikvah' coming from the camp."

(A precise identification of the camp to which Michaels referred has never been made. Earlier this year, researchers at the United States Holocaust Memorial Museum completed a study which identified 42,500 Nazi ghettoes and slave labor camps throughout Europe, a much higher number than previously recorded.)
'Am Yisrael Chai'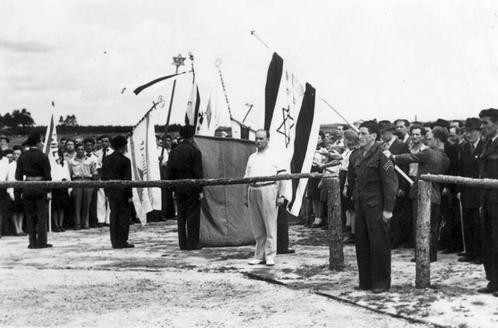 BBC Radio reporter Patrick Gordon Walker was on hand when the British Second Army liberated the Bergen-Belsen death camp in April 1945. On the first Friday after the liberation, Walker broadcast an account of a British Jewish army chaplain, L. H. Hardman, leading what Walker called "the first Jewish service that many of the men and women present had taken part in, for six years—probably the first Jewish service held on German soil in absolute security and without fear, for a decade."
"Around us lay the corpses there had not been time to clear away," Walker reported. "People were still lying down and dying, in broad daylight… A few hundred people gathered together, sobbing openly in joy at their liberation and in sorrow at the memory of their parents, bothers and sisters that had been taken from them, gassed and burned."
"These people knew they were being recorded, they wanted the world to hear their voice. They made a tremendous effort, which quite exhausted them. Listen."
Walker evidently assumed that what he heard was part of the traditional Sabbath prayer service, but the survivors actually sang "Hatikvah." At the conclusion of the song, a voice—perhaps that of the chaplain, L. H. Hardman—declares: "Am Yisrael Chai, the children of Israel still liveth!" (The broadcast can be heard on YouTube.)
Mrs. Oran Aviv (formerly Helen Einhorn), an Israeli health care practitioner originally from San Francisco, has identified her mother, Cesia Frommer Einhorn, among the survivors on Walker's recording. Just days earlier, Mrs. Frommer had "contemplated running and killing herself on the electric fence of the camp," Mrs. Aviv notes on her Web site.
But there she is on the BBC recording, "belting out the song with her operatic voice, full of determination, wanting the whole world to know that despite all that she and others had suffered though, they had not lost their hope and still dreamed of returning one day to Zion. Where did my mother's amazing strength come from? How did she find this strength and hope, despite the atrocities she witnessed and suffered, despite the death march from Auschwitz to Bergen Belsen…?"
Dr. Rafael Medoff is founding director of The David S. Wyman Institute for Holocaust Studies, www.WymanInstitute.org. His latest book is "FDR and the Holocaust: A Breach of Faith."

Click here for the original article.
---
What's your most meaningful experience singing Hatikvah?