גרסת עברית) חיה בזיכרון: הכוח של משפחה)
By Rachel Moore
ביום שישי, ה-5 ליוני נשים מכל רחבי הארץ יתכנסו לצליחת ים הכנרת. אירוע עבור סדנת שילוב אינו תחרות, הצליחה הינו אתגר אישי, אשר מעצים כל משתתפת בפרט, ומקרב את כל נשים ביחד בכל מיני דרכים.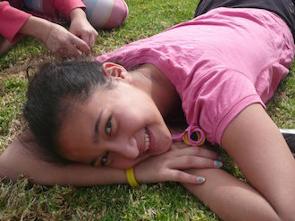 רבקה פרנקל בת ה-15, תלמידה באולפנת נב, שומעת מאז שהיא ילדה קטנה על צליחת הכנרת עבור שילוב סדנא בגוש עציון. השנה, שלא היתה קלה עבורה, החליטה להצטרף לנשים מכל רחבי הארץ ולהשתתף בשחייה.
רבקה, איבדה את אמה בקיץ של 2013 אחרי מלחמה ארוכה בסרטן. היא צפתה באביה, ירדן פרנקל, רץ מרתונים חרוץ ובלוגר (Crossing the Yarden) קבוע, מנצל את שני האמצעים הללו ככלים ליצוא אחידות במשפחתו בכלל ובעצמו בפרט, כדי לעבור את כל המכשולים שהיו בדרך.
זה ברור, שילדיו של ירדן מקבלים השראה וכוחות דרכו, והפנימו את משעותם של אמצעי ההתמודדות הללו, ועוזרים לו לעבור את התקופות הקשות.
"אני בדיוק כמו אבא שלי" אומרת רבקה, " תמיד רקדתי, ריקוד הינו אמצעי ההתמודדות שלי".
במהלך התקופה הקשה בשנה שעברה, פגשה רבקה את גילי אסרף, אם לשניים ועולה חדשה מבית שמש, שיש להן הרבה במשותף." חבר פרסם את הבלוג של ירדן בפייסבוק, וכל מה שקראתי שם היה כל כך קרוב למה שקרה לי, וגם מה שכתבתי ביומן במחשב האישי שלי כמה שנים קודמות" אומרת גילי. בעלה של גילי נפטר גם במלחמה שלו בסרטן ב-2006. החלום של בעלה היה ששני בנותיו יגדלו ויהיו ישראלים. אז, ששה חודשים אחרי פטירתו, גילי הגשימה את חלומותיו של בעלה ועלתה עם שתי הבנות. גילי מנצלת את הרקע שלה בשחייה תחרותית ואימוני כושר כאמצעי התמודדות עם כל הכאב ואובדן.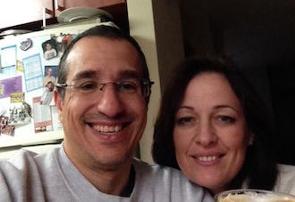 בסופו של דבר נפגשו גילי וירדן, ומוקדם יותר השנה נישאו אחד לשני. החתונה הייתה דרך חדשה עבור המשפחות הללו וכולם מנסים להתרגל למצב החדש.
רבקה ידעה כבר לפני החתונה שאמא החורגת הייתה מתחרה חזקה בעולם השחייה התחרותית ואז הייתה לה רעיון, "כשהייתי בפעם החרונה בביקור בנרת, חברה סיפרה לי אודות הצליחה עבור סדנת שילוב, וחשבתי שזה יהיה רעיון מעולה להשתתף בו, ואז חשבתי עד כמה גילי תהנה מהשחייה גם"
רבקה אומרת שלוקח זמן להסתגל לאם חורגת ושתי אחיות חדשות, אבל יודעת שזה " טוב בשבלי אבא, וכולנו גם. במיוחד עבור אחי הקטן שאיבד את אמא בגיל 11".
רבקה וגילי עודות ביחד לאסוף את ה-2000 שקל שכל אחת צריכה על מנת להשתתף בצליחה. הן נעזרות בבלוג של ירדן ובנוסף יש לכל אחת דף אישי לאיסוף תרומות.
"אמא של רבקה, סטלה, תמיד הייתה נותנת לאחרים. היא הייתע ידועה בגלל התכונה הזאת" אומרת שכנה וחברה קרובה של המשפחה. "אני לא יכולה לחשוב על דרך יותר טובה להנציח ולחלוק כבוד לאמא שלה מאשר בדרך של הצליחה ונתינה לאחרים, בזמן שהיא גם מוצאת דרך להתחבר לאמא החדשה. זה פשוט מדהים, והדרך שרקבה משקיפה על העולם הינו מתנה שקיבלה מהוריה וזה פשוט מתנה נהדרת ומדהימה."
גילי ורבקה צפויות להשתתף בצליחה ומאוד מתרגשות לקראת השחייה. "זה פשוט מטרה נפלאה; אנחנו עושות משהו שעוזרת לאנשים אחרים, וגם מתרגשות שנוכל לעשות את הצליחה ביחד." אומרת רבקה.
גילי מוסיפה: "רבקה ילדה מדהימה, מרגשת, ומלאת אהבה. אני אוהבת אותה, ואהבתי את הרעיון שניגשה אלי איתו, שנינו חיפשנו דרך להתחבר ולבנות את הקשר שלנו. הצליחה היא הזדמנות מדהימה בשביל זה."
רבקה פרסמה את הסטטוס הבא בדף הפסייקבוק שלה ביום הראשון האחרון:

אל תרגישו רע ביום האם. תקנאו, לי היה האמא הכי מדהימה בעולם, יש לי כמה אמהות שעוזרות לי לגדול ולתמוך בי, ועכשיו יש לי את האמא החורגת הכי מדהימה בעולם! לא יכולתי לבקש אישה יותר טובה. אז אני יכולה להגיד בבטחה, שבורכתי במחלקת האמהות. יום האם שמח לכל האמהות שלי. אוהבת אתכן! מרגישה מבורכת.
צליחת הכנרת ה-6 תתקיים בחמישי ליוני בחוף צמח. ישנה שני מסלולים לבחור- אחד 3.5 ק"מ והשנייה 1.5 ק"מ, שכל אחד מתחיל בחופים שונים בשלהי הכנרת ומסתיימים באותה נקודת סיום.
הצליחה הינה אירוע צדקה עבור סדנת שילו באמונה, עמותה הנמצאת בגוש עציון, אשר מקדם חיזוק אישי וקבלה עבור ילדים בעלי צרכים מיוחדים. ארגון ה"סדנא" (ככה קוראים לו בקיצור) נותנת שירותים כמו בית ספר לחינוך מיוחד עבור ילדים עם כל מיני צרכים שונים, חוגים אחרי בית הספר, תוכנית חקלאית ומגורים קהילתיים. התרומות מהצליחה השנה יעזרו לבנות מטבח מיוחד בסדנא ויעזור ללמד את התלמידים לבשל לעצמם ועבור אחרים.
בדוק את דף גיוס התרומות האישי של רבקהוהגיליםלמסע הפרסום שלהם כאן .
לקרוא את הבלוג הזה באנגלית , לחץ כאן.
---
Recommended for you: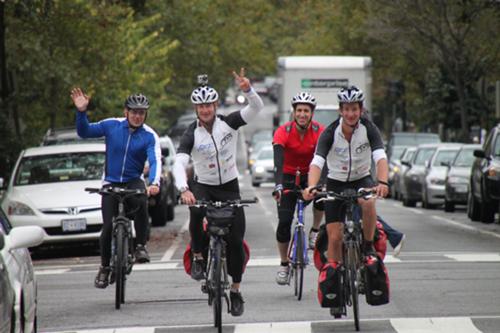 Washington Jewish Week
---
SUPPORT INCLUSIVITY IN ISRAEL WITH SWIM4SADNA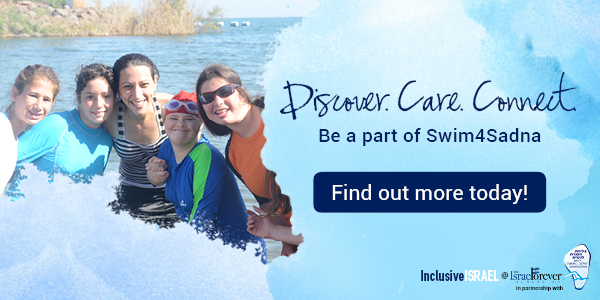 Learn More about Swim4Sadna

About the Author
Rachel Moore is a Public Relations and Communications Professional working at BlueThread Marketing and Moore International Connections. She is also the founder of HubEtzion, the first open workspace in Gush Etzion. Her writing has appeared in the Jerusalem Post, Times of Israel, and more. She blogs about parenting, step-parenting, Judaism and Israel at Ima2Eight.