I AM FROM
by Lilia Rebecca Gaufberg
I am from red and gold hand-painted matroshka dolls, I am from Challah eaten in secret on a dim Ukranian Friday night sundown under the flickering Shabbat candle light.
I am from a waft of cigarette smoke in my grandfathers one-bedroom apartment, from cassette tapes of Soviet-era war songs.
I am from Hebrew and Yiddish conveyed in hushed tones, hidden tactfully between Russian phrases. I am from a Tanach buried under a layer of dust, a brass kiddush cup thirsty for wine.
I am from striped pajamas, barbed wire, I am from six million lives lost. I am from exile after exile, I am from pogroms and from shtetls, I am a longing for the East.
I am proof of escape. I am new. I am a mess of auburn hair that, like my family, refuses to assimilate. I am illogical, abstract, dissonant. the contrast between gentleness and harshness, home and wandering. I am from restlessness. I am from the shuk in Jerusalem, from the beaches in Tel Aviv; I am from a platter overflowing with hummus and tchina, I am from Hebrew spoken loudly, and I am from Russian nearly forgotten, buried under a layer of dust.
But my life is not my own.
My life belongs to the thousands of years in exile, to the wandering through foreign lands, to the bodies who trudged through the expanses of the earth, bodies whose souls were always, infinitely somewhere else.
My life is dedicated to those who could not speak Hebrew freely, who recited the shema in shaken, hushed tones, those whose very humanity was shattered continuously for millennia, but who still grasped on to life because they knew that to be a Jew is to fight.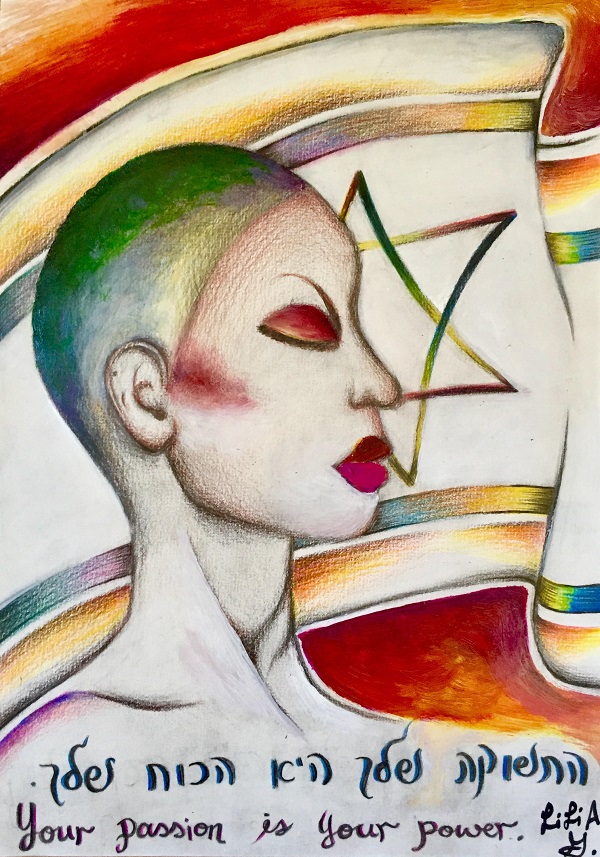 I live for them because they lived for me, they endured for me, they fought for the idea of me, for a Jew who has experienced Jerusalem, a Jew who bathes in the music of Hebrew, a Jew who trembles with awe at the opening notes of "HaTikvah", a Jew who continues to fight for the sake of them, all of them, who made it possible for me to be a Jew that is free.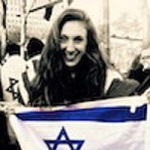 Lilia Rebecca Gaufberg is a 24-year-old American-born teacher and artist. She is currently teaching English in Israel and is in the process of making Aliyah. For more examples of her artwork, please visit her Facebook page, Art by Lilia.
---
Recommended for you:
---
FEEL ISRAEL, THROUGH ART