WATCH: #IMTHATJEW
My name is Eitan Chitayat. And #IMTHATJEW

This has been simmering with me for a while.
And I've been wondering when would be the right time to let it out.

The time is now.
Last year, after the Charlie Hebdo massacre went down in France, radical Islamic terrorists entered a kosher supermarket and gunned down innocent Jewish shoppers who were just out to buy some groceries. They were killed because they were Jewish – no other reason. The world remained largely silent.

And look at anti-Semitism now. It's 2015 and it's everywhere you look. In the streets. In the media. In the classroom. It's practically en vogue.

Is this really what we've come to?

Lest any Jew forgets – because of all the violence directed at us, the hatred, the incitement to harm and kill, the vile words, the missiles, the rockets, the knives, the rocks, the deafening silence of the world that we all feel right now – we should be proud of our heritage, accomplishments and spirit. Just like anyone else on this planet. And we shouldn't be shy about it.

Rise up, speak up and keep your chins up. We'll get through this because we love life and we're strong and smart and funny and beautiful and talented and resilient and educated and hard-working and positive and so much more.

We're okay. In fact, we're more than okay.
We rock. And here's a little reminder.

Love and peace to all.
#IMTHATJEW

FEATURED: - Bob Dylan - Elena Kagan - Richard Dreyfuss - Jack Black - Alan Greenspan - Drake - Ed Koch - Gabriel Macht - Golda Meir - Randy Savage - Moses - Billy Crystal - Lou Charloff - Asaf Goren - Ben Gurion - Mark Spitz - Jeremy Piven - Yael Arad - Michael Bloomberg - Sergey Brin - Larry Page - Howard Stern - Sheryl Sandberg - Shia Labeouf - Mark Zuckerberg - Bar Rafaeli - Rachel Weisz - Peter Sellers - Alicia Silverstone - Billy Joel - Adam Levine - Roman Abramovich - Abba Eban - Manuel Valls - Steven Spielberg - Jesus Christ Superstar - Bernie Madoff - Adam Goldberg - Joan Rivers - Paul Newman - Judge Judy - Menachem Begin - Yitzhak Rabin - Sammy Davis Jr. - Amar'e Stoudemire - Ben Stiller - Jeff Goldblum - Larry King - Sacha Baron Cohen - Arthur Miller - Albert Einstein - Sigmund Freud - Ruth Westheimer - Monica Lewinsky - Francois Englert - Carl Sagan - Ilan Ramon - Paul Rudd - Jonah Hill - Seth Rogan - Andy Samberg - Mel Brooks - Jerry Seinfeld - Bill Maher - Larry David - Scarlet Johansson - Gal Gadot - Natalie Portman - Carrie Fisher - Haim Topol - Joseph Gordon-Levitt - Amy Winehouse - Ed Milliband - Bernie Sanders - Matisyahu - Stephen Fry - Sara Hurwitz - Leonard Cohen - Leonard Nimoy - William Shattner - Daniel Pearl - Pope Francis - Dalai Lama - Sarah Silverman - Madeleine Albright - Mark Knopfler - Yoni Netanyahu - Yitzhak Rabin - Families of Eyal Yifrah, Gil-ad Shaer, Naftali Fraenkel - Gene Simmons - Yuri Foreman - Liev Schreiber - Eli Weisel - Shimon Peres - Coen Brothers - Harvey Weinstein - Beastie Boys - Simon and Garfunkel - Rina Wertheim - Lucian Freud - Ralph Lauren - Nigella Lawson - Adam Sandler - Woody Allen - Harrison Ford - Lenny Kravitz - Madonna - Dustin Hoffman- Benjamin Millepied - Kirk and Michael Douglas - Jon Stewart - Gene Wilder - Pink - Winston Churchill - Franklin Roosevelt - Martin Luther King Jr. - Jim Henson - Bill and Melinda Gates - John Lennon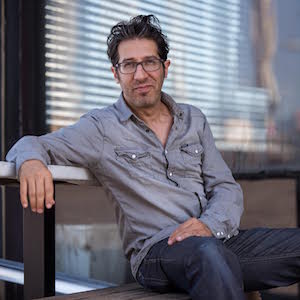 Eitan Chitayat is the founder of natie.com, a boutique global agency that specializes in branding, animation, storytelling, and design. Throughout his 15-year career he's received a bevy of advertising awards and shares the credit with the creative partners he finds himself lucky to work with everyday. He's spoken at events in NYC, Barcelona, Zurich, Berlin, Budapest and Jerusalem amongst other cities, and recently served as a jury member on advertising's prestigious One Show. He's also the co-founder of the5percent.club. He's lived in Hong-Kong, London, Tel Aviv, New York and Boston.



***The use of these media materials is protected by the Fair Use Clause of the U.S. Copyright Act of 1976, which allows for the rebroadcast of copyrighted materials for the purpose of commentary, criticism and education.***
---
HOW DO YOU SUPPORT ISRAEL?

---
Enjoy more videos of Israel and that Celebrate Jewish Pride!