Indians 'Take Over' Twitter and Trend Solidarity with Israel
By Vijeta Uniyal
In recent days, Twitter in India has been abuzz with the hashtag #IndiaWithIsrael. The trending hashtag has come as a pleasant surprise to supporters of Israel on social media and is predictably causing some serious grumbling amongst pro-Palestinian activists.
What might appear as a spontaneous wave of support for the Jewish State - starting last week, is a joint effort by political activists, social media influencers and grassroots organizations in India.
India will always stand with Israel #IndiaWithIsrael #India #Israel pic.twitter.com/yTUZ7Ku8GE

— Indians for Israel (@Indians4Israel) June 28, 2015
The campaign was floated ahead of Prime Minister Narendra Modi's visit to Israel, expected this year. The grassroots initiative has managed to light up a flame that has now sprung over to the broader user base and the hashtag has taken a life of its own.
The hashtag trended again on Friday July 3, as Indians learned about their government's refusal to vote on an anti-Israel resolution tabled at the UN Human Rights Council (UNHRC). Though many Indians expressed their disappointment over government's decision not to take an even bolder step of opposing the motion, this did not dampen the mood as they went on a celebratory mode.
That @UN_HRC voted to condemn #Israel no surprise. Nor #EU capitulated also. Biggest story: #India abstained (1st time). #IndiaWithIsrael

— Arsen Ostrovsky (@Ostrov_A) July 3, 2015
India abstains in another anti-Israel vote at #HRC29 - @narendramodi shows more moral fiber than @EU_Commission cc @Indians4Israel

— Gerald M. Steinberg (@GeraldNGOM) July 3, 2015
Later, a diplomat at the Israeli Embassy in New Delhi confirmed that #IndiaWithIsrael was again trending across the country, following the news India's stand at the UNHRC.
Jews suffered hatred, genocide, denial wherever they went, stayed. But they fail to be so inhuman. That's why I like jews. #IndiaWithIsrael

— Suvie Ritu Chandra (@SuvalagnaC) June 28, 2015
#IndiaWithIsrael buzzing. . . Kudos pic.twitter.com/4sssmkErJb

— Froim Ditza (@Froim) July 3, 2015
Despite India's past adversarial stand towards Israel at the UN and other international arenas, public opinion in India has always been supportive of the Jewish State. With election of Prime Minister Modi in 2014, India's stand at UN is finally in line with the popular mood at home.
Israel, We Indians know your pain. #IndiaWithIsrael #India #Israel pic.twitter.com/Ks2DsFjWud

— India with Israel (@IndiawithIsrael) June 28, 2015
As one Indian twitterati told visibly annoyed self-styled Palestinian cause célèbre Carlos Latuff, "Get used to [Indians defending Israel]. This is just the beginning."

Vijeta Uniyal is an Indian journalist based in Europe. He is Contributing Editor for the UK-based Commentator and Senior Distinguished Fellow at New York-based Gatestone Institute.
---
Recommended: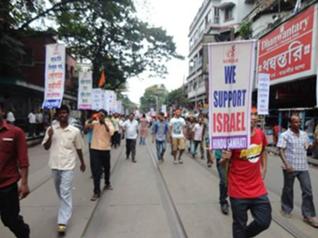 Israel National News
---
What's Your Style of Israel Advocacy?