Israction Day: Food Glorious Food
By Winston Pickett
Mention the word 'grassroots' and a number of images come to mind. Placards. Bullhorns. Palestinian Flags. Israeli flags. Raised voices. Heated arguments. Chants. Traded insults. Veiled (and not-so-veiled) antisemitism. Ratcheted-up emotions. Israel advocates on one side. Boycott Divestment and Sanctions (BDS) supporters on the other.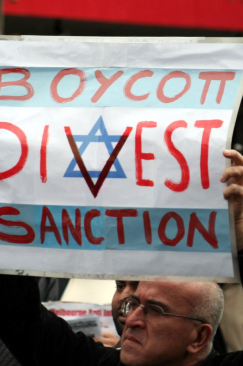 At Sussex Friends of Israel a little-engine-that-could communal fight-back campaign in Brighton, England we had our fair share of street confrontations.
In 2013, when the BDS rolled up their tired, ex-Trotskyist, Birkenstock-and-granola rent-a-mob outside the start-up, eco-friendly, container-free EcoStream store less than a mile from our home to shout abuse, confront customers and vilify the parent SodaStream Company with a litany of hate – denouncing Israel as an apartheid, child-murdering, ethnic cleansing and Nazi-emulating state – everyday Brightonians were taken by surprise.
So were two Zionists – one Christian and one Jew – who decided to take matters into their own hands. Telephone calls were made. Email bulletins sent out. Israeli flags and positive, factual flyers about Israel were produced and, week after week (sometimes twice a week) we assembled a lively crowd to counter the propaganda and spread a little light.
Sometimes the light took the form of humour. Because the BDSniks had no interest in entering into any kind of dialogue or even civil discourse about Israel, its policies or (heaven forbid) its right to defend itself or to 'engage' with them on issues such as apartheid, territorial compromise and a history of efforts to make peace with the Arab world and Palestinians themselves, we took a different tack.

We made fun of them.
We ridiculed their refusal to engage. We satirized their slogans. We mocked their own lame efforts to engage the public with their nonsense. We created a bit of a party atmosphere, so that when people came out to join us, they'd have a chuckle amidst all the vitriol. Eventually we were joined by musicians, singers and, it being Brighton, sometimes folks in fancy dress.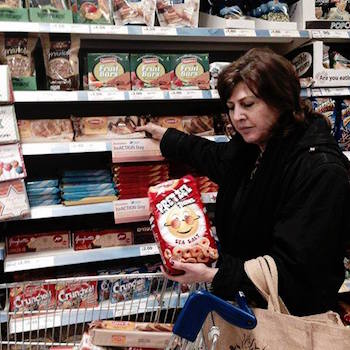 But perhaps our most effective weapon was an inherently Jewish one: food.

After all, if you're having a demonstration, don't you need to eat?
So we made a theme out of it. One Saturday we had our supporters bring bagels, falafel, drinks and the like and we dubbed it, "Bagels Against Bigotry."

On another occasion we had "We Bring Cake. They Bring Hate."

You get the idea.
Whenever we did this, it had a certain effect. It kept our troops well-watered. It reinforced the kibitzing, party atmosphere of our efforts. It engaged the public - well, who can say no to a piece of cake? And it drove the BDS nuts.

Inevitably, however, because of a certain Jewish mother/cultural disposition to make sure no one goes hungry, we had leftovers.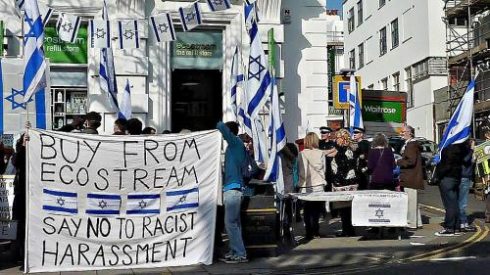 Luckily, three blocks down the road from EcoStream there was a church-run homeless shelter and soup kitchen, where, once the flags were rolled up, the tables folded and the BDS-nicks retired to their local coffee shop for tea and digestive biscuits, we offered the charity our graciously received contributions.
In that moment, without knowing it, we had fused two ideas: Food as a catalyst for beating the boycotts and a way of doing a mitzvah.
Last year, with the closing of EcoStream, the end to the weekly street demonstrations and the approach of Chanukah we thought: Why not do something that supports Israel, counters the hatred and feeds the homeless our community?
With that, IsraAction Day was born.
We talked to our northern partners who had also carried out cheek-to-jowl weekly confrontations with the BDS in Manchester outside the Israeli-owned Kedem store. Northwest Friends of Israel embraced the idea totally.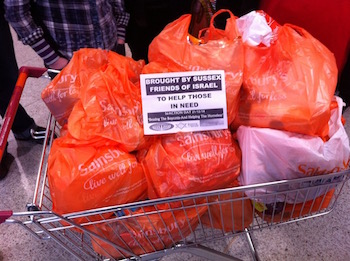 So much so, when the final tally was made, we had garnered more than $20,000 in non-perishable Israeli goods that had been donated to food banks and homeless shelters from synagogues, Jewish groups, organisations and ordinary individuals on behalf of IsrAction Day.
Along the way, we received across-the-board endorsements from the Jewish Chronicle, which ran the IsrAction Day initiative on its front page and every week leading up to the launch date, as well as the Board of Deputies of British Jews, the Jewish Leadership Council, the Zionist Federation, Stand With Us as well as individuals and synagogues trying it out up and down the country.
With these organisations already in place for 2015, SFI and NWFoI thought: "Why not give it a bigger push this year?" And even: "Why not other countries?"
Hence, the following video:
And hence – much to our astonishment – the decision by the Israel Forever Foundation to promote it – together with South Africa, Canada, Germany and possibly France in the days ahead.
So for each one of you reading this, clicking on our film or watching the progress of IsraAction Day on our Facebook page, know this: You can do it. No matter how big or how small your community is.
Bring together some like-minded volunteers. Locate grocery stores or supermarkets where they sell Israeli products (or, absent that, kosher products). Contact your local food bank or homeless shelter to see when you can drop off the food. Decide where the collection point will be.
Let the 'triple-win' idea of supporting Israel, doing tikkun olam in your community and engaging in practical tzedakah take effect.
And finally: By posting your selfies, photos or short video clips on the IsrAction Day Facebook page you can show other Jews around the world just how easy it is to spread some much needed light at this time of year.


Winston Pickett is a writer, analyst and communications consultant living in the UK. A regular contributor to the Jewish Chronicle, he also is the UK correspondent for theJerusalem Report and the Jewish Telegraphic Agency. Recently he was director of the European Institute for the Study of Contemporary Antisemitism and served as communications director for the Board of Deputies of British Jews and external relations director for the Institute for Jewish Policy Research.
---
Recommended:
---
AM YISRAEL: FOSTERING JEWISH UNITY AND PRIDE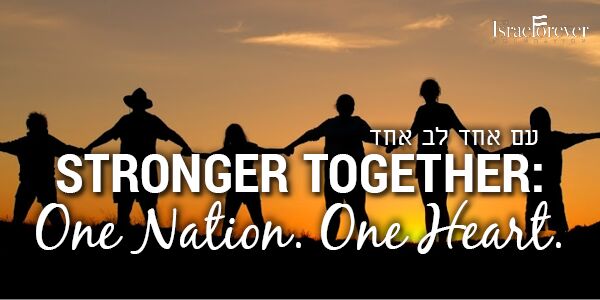 How are you making a difference for Jewish Unity?