It takes the entire Jewish community to help fight hunger in Israel
By Miri Schreiber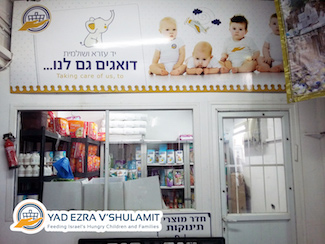 Poverty Stalks Israeli Children and Adults Alike
The latest figures are out, and they are not encouraging. Over one million children – or one out of every three children in Israel – go to bed hungry.
Yad Ezra V'Shulamit knows firsthand that too many people are struggling with poverty, and we're doing everything we can to ease their pain. We ensure that 500 children eat a hot, nourishing lunch every day in our Children's Centers. We give them help with homework, tutoring, and an afternoon of fun activities so they can have a break from the pressures at home. With over a hundred Children on our waiting list to receive our services, much needed funds must be secured in order for us to help these poor children.
Additionally we are committed to helping adults provide for themselves and their families with dignity. To this end, we distribute 3,000 family food baskets throughout Israel every week, and 20,000 holiday food baskets before Passover and Rosh Hashanah. We supply baby formula, baby food, diapers and other infant products to hundreds of destitute, new mothers. Our Job Desk offers career counseling and employment guidance to match breadwinners with available jobs.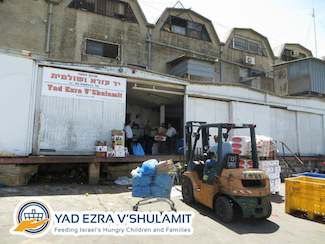 In war and in peace, Yad Ezra V'Shulamit is always on call. During the Gaza War and the Second Lebanon War, our founder, Rabbi Aryeh Lurie, led convoys of trucks into the war zone to bring beleaguered families food and supplies.
"Sometimes we hear from poor people who seek a weekly food basket, and sometimes from people who aren't necessarily poor, but because of war or terrorism, have no access to food," Lurie says. "To me, they are all the same: they are hungry and we have to feed them. I grew up poor myself, so I know they can't wait a few more days. We must reach them immediately".
How Many People Can One Person Feed?
"I'm not a prime minister. I'm not a member of Knesset. I just started giving food baskets to a few of my neighbors who were hungry. I never dreamed I would be giving out 12,000 food baskets a month," says Aryeh Lurie.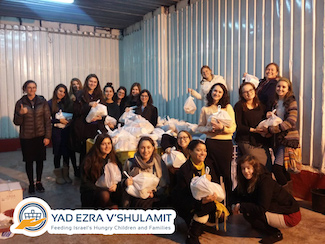 Back in 1988, powered by his own painful experience of growing up hungry, Lurie began handing out a few parcels of food to help his neighbors get through the week. Fast-forward 28 years, and Yad Ezra V'Shulamit is now one of the major distributors of food for impoverished families in Israel. With more than 12 distribution points around the country and four Children's Centers that provide a daily hot meal to 500 kids, the organization feeds over 100,000 people a year.
"I can't sleep at night knowing Jewish children are hungry," explains the humble Sephardic father and grandfather who still lives in the same poor Bukharan Quarter in which he grew up. "Despite all of Israel's advancements in medicine and technology, over one-third of our precious Jewish children live under the poverty line. That is a fancy way of saying they are hungry. I know. I've been there".
With more than one million Israeli children now living in poverty, Lurie calls on everyone to join him. "We have so many requests; people are on waiting lists for food baskets," he says. "The world views Israel as an affluent nation, but if you look a little closer, you'll see that Israel is just ahead of Mexico in having the most hungry children. We have to take care of our own. We need Jewish people to realize the problem, step up and make a difference".
"No child should grow up hungry. And no child in Israel should feel deprived," he says emphatically.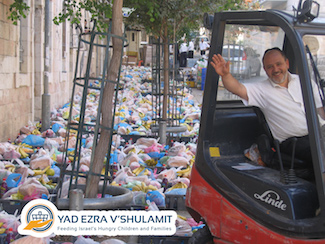 Yad Ezra V'Shulamit is working to address their basic needs and create a brighter future for hungry children and families. We provide underprivileged children and their families with food, education, counseling, dental care, clothing, and most importantly - a chance to break out of the cycle of poverty. We want to make sure every child knows that he will be fed, clothed, and cared for as much as any child with means.
Together, we can make a powerful difference, whether it be providing hungry families with a food basket from abroad or volunteering to pack food baskets at our food distribution center on your next trip to Israel, you can make a difference. For further information or to volunteer to pack food baskets, email feedisrael10@yadezra.net or call 011-972-2-664-5161.
---
Recommended for you:
---
SHOW ISRAELIS YOU CARE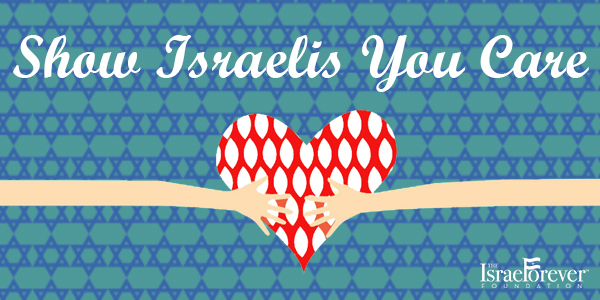 About the Author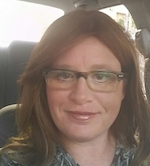 Miri Schreiber, Development Associate at Yad Ezra V'Shulamit, made Aliyah with her husband and four children in 2012, fulfilling a life long dream. She currently resides in Ramat Beit Shemesh, Israel and has been fortunate enough to have found a career which ignites her passion while helping those in need. It is a win-win!