Jerusalem, a matana (gift) and a modern miracle
By Izzy Sakhaie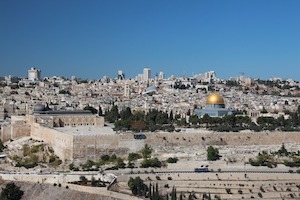 It was the eighth night of Chanukah. I found myself in the heart of the Old City, watching the final candle lighting ceremony at the Kotel from the birds-eye view of the Aish Ha'Torah balcony. My feelings were bittersweet. Another Chanukah had come and gone and I was feeling like I hadn't quite taken it all in to the fullest extent.
And so I stood there thinking.
The most commonly mentioned theme surrounding Chanukah is that of the miracle of light. But an even deeper, more special element, in my humble opinion, is the theme of unity and perseverance. The real "miracle" was much more than the miracle of light. It was the fact that we, as a Jewish nation were able to uphold our spiritual, Jewish essence when everything was working against us; when it would have been easier to give into our surroundings, to the materialistic, Hedonistic environment; when Jewish "spirituality" made no sense to the vast majority.
And ironically, today it seems we're facing that same challenge. Living in a society when our Jewish identity seems to take the backseat because everything else is so tempting; so much more immediate and convenient; and of course, so much more "with the times."
But how can we sit here a few thousand years later talking about the story of miracles when we're letting our own present miracles slip away from us? The miracle that thousands of years later we're here. Here in Israel. Here in America. Here in Europe. Here on virtually every continent. Against all odds the Nation of Israel is alive and thriving. And yet, for some reason we don't always choose to acknowledge and embrace that miraculousness.
Shortly after we left the candle lighting ceremony, my friends and I witnessed what I would call a present day miracle. As we were squeezing our way through herds of people, we caught a young man leading a blindfolded young lady towards the Kotel. One of my friends quickly realized what was happening and got us to all follow close behind them, holding our breath so we didn't ruin the surprise. As he ushered her forward, careful not to trip either of them on the uneven Jerusalem stone, you could see the young lady eagerly trying to keep pace. A couple minutes later, and after various nervous glances back at us, he stopped her on a balcony looking over the Western Wall, with a candle lit heart in front of them. With his soon to be fiancé starting to catch on, he removed the blindfold and asked her that long awaited question. After a few moments of embracing each other and shouts of Mazal Tov from all the eager onlookers, I remembered I had another of my uncle's gifts, a Matana in my bag. What better people to give it to than two newlyweds (and I believe recent Aliyah-ers), about to start their new life together? I walked over and handed them the envelope without them really understanding what it was. Nonetheless, the young man took it and nodded with a smile, still too overwhelmed to speak after all that had just happened.
You might be asking, so what's the big deal here? Where's the miracle? The miracle lies in the fact that thousands of years later, a couple, who emigrated from France likely not too long ago, are able to come to the land of Israel and vow to stand together through thick and thin; all while looking over the Kotel and the Chanukiah, the symbol of our victory and return to sovereignty in Eretz Yisrael, completely lit. Completely fulfilled. Exemplifying that we can be thrown around from place to place, but ultimately Israel, lit in all its glory, can be a place of return. We're still thriving; and I'd like to believe that
if we hold onto the idea of the Chanukah miracle, the miracle of staying banded together when we could have easily been swayed not to, our light will only get stronger.

Izzy Sakhaie graduated from the George Washington University with a major in International Business. She is originally from Great Neck, NY but is currently studying in Jerusalem while also interning with the Israel Forever Foundation.
---
Recommended for you:
---
CELEBRATE JERUSALEM - TODAY AND EVERYDAY
Celebrate your connection to our eternal holy city by bringing a piece of Jerusalem into your home and hearts.