Making Your Jump Count
by Tamara Gavrilov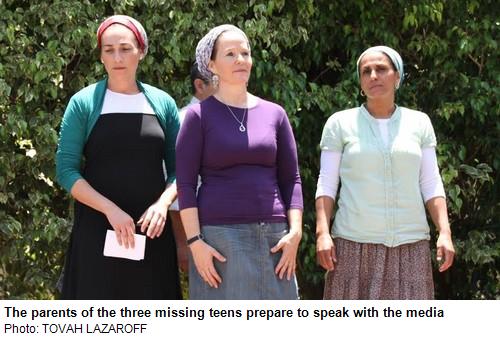 She pleaded for "Anybody in the world that's listening… to do anything they can to get our children back home."
This was the call of Rachel Frankel, a mother desperately begging the world to continue to remember her sixteen-year-old son Naftali, and his friends, Gilad Shaer, and Eyal Yifrah, who were kidnapped by terrorists while coming home from school in Judea and Samaria.
Since the boys have gone missing over ten days ago, many of us around the world have banded together in support of them, their families, and the search efforts. We have spent days and nights worrying and hoping for the best possible outcome for them. The #BringBackOurBoys campaign has helped raise awareness around the world about the kidnapping, and prayers and vigils have been spreading in honor of Naftali, Gilad, and Eyal. Hundreds of supporters have now stood outside of several buildings, earnestly hoping that politicians behind the walls would hear their cries. And this past Friday, thousands of women and girls lit extra candles in support of the boys.
Undoubtedly, these have been difficult days. To hear and read the desperate call of a mother, who wants nothing more than for her son to be safely returned into her arms, is incredibly heartbreaking. Her belief, that "[a]ny decent person would do anything they can to get them back," made me ashamedly aware that I have not contributed all I possibly could to help bring her son and his friends home.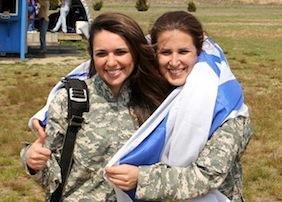 Unfortunately, I cannot drop onto the streets of Judea and Samaria, to physically search for the boys...
I also do not personally know any politicians who are in a position to help on an ambassadorial or diplomatic level, or have much experience in organizing public rallies and protests. However, I do know that with every day that goes by, we run the risk of losing the sense of urgency needed in advancing the campaign to #BringBackOurBoys. Keeping Naftali, Gilad, and Eyal on the hearts and minds of as many people as possible, is extremely important to continue to put pressure on Hamas and help ensure the boys' safe return. I realized that with some creativity, I could tap into one of my favorite pastimes to help continue to raise both awareness and funds for the search efforts.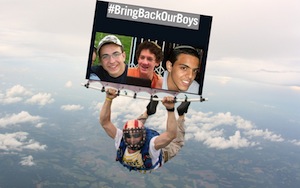 Thus, with the support of of Skydive Cross Keys and the Israel Forever Foundation, and in partnership with the Endowment for Middle East Truth, Roots NY and The Zionist Organization of America, I invite you to join me at the "Jump for Our Boys" fundraiser on June 29, 2014, in Williamstown, New Jersey. In addition to raising awareness about the #BringBackOurBoys campaign, a portion of the funds raised will go directly to purchase supplies needed by the soldiers conducting the search.
I realize that skydiving might seem unconventional when thinking of the #BringBackOurBoys campaign. But, to cite one of my favorite quotes,

"Make every effort to change things you do not like. If you cannot make a change, change the way you have been thinking. You might find a new solution."
-Maya Angelou
As Rachel Frankel insisted, we can all do something, anything, to contribute. Every single one of us has a talent, connection, or resource we can and should utilize to help bring back our boys and to continue to support their families during this very difficult time. In this case, doing something is certainly better than doing nothing at all.
Skydiving is of course not the right sport for everyone. If you prefer to stay on the ground, please consider donating to sponsor a jump instead. We also welcome you to come by the dropzone to participate in the fundraiser by encouraging the jumpers, and to learn more about the organizations involved.
It is of course my deepest hope and desire that the boys are back home before Sunday and that we can jump in celebration of their safe return.

---

#BringBackOurBoys - Awareness and Involvement is How We can ALL Make a Difference!