Living with Terrorism and War, How Can Israelis be Happy?
By Marshall Ivler
Videography and editing: Marshall Ivler
Production: Abby Chargo and Rachel Brynien
Israelis live with the constant threat of terrorism and war and yet consistently rank among the happiest nations on earth. How is that possible?
During their time as Israel Forever Foundation interns Marshall Ivler, Abby Chargo and Rachel Brynien went out to ask Israelis to explain their experiences.
---
Recommended for you:
About the Author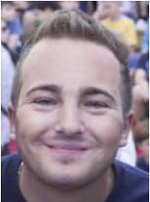 After discovering his love for photography at a young age Marshall Ivler hasn't traveled anywhere without his camera. As a current Junior at Indiana University majoring in Advertising and minoring in American Studies, Marshall has been able to align his personal aspirations with his academic endeavors. This summer he will be working on Outreach and Publicity as well as Photography and Videography.