Losing a Child to Terror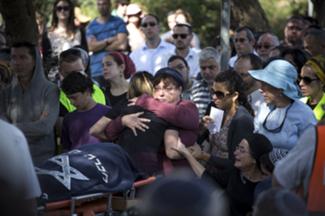 In Israel, many lives have been lost as a result of terrorism or politically motivated violence and many lives have been changed forever. Between the founding of the State of Israel in 1948 and 1999, 1815 people fell victim to hostile enemy actions, in most cases terrorist attacks. In addition, in the last 17 years since the start of the Second Intifada in 2000, 1328 people have been killed and over 9000 wounded by Palestinian violence and terrorism – including 55 killed and 796 wounded since the current wave of terror began in September 2015. These are not just statistics. These are human beings. Each one has a name and a face and a life to be remembered and honored. Each one may be a son or daughter, father or mother, brother or sister.
For the survivors who personally experience such indiscriminate and horrific attacks, terrorism threatens their existence, shatters their sense of coherence and meaning, and shakes the foundation of who they are; making them face their basic helplessness and mortality.
Even for those who have never been directly impacted by a terrorist attack, the thought of such indiscriminate violence creates varying degrees of anticipatory anxiety, fears of future harm to oneself or loved ones, and functional impairments, such as refusal to leave their homes or ride public transportation.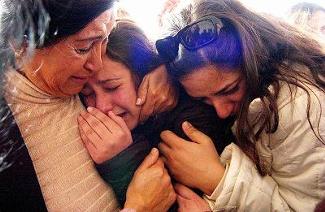 And for each of those who fall victim to a terror act, a new "family of the bereaved" is left behind, joining with other families whose loved ones fell on the battlefield fighting for their homeland or in sudden and violent terror attacks. As one bereaved family member told me, "At the end of the day, we are all victims of terror. It doesn't make any difference that my mom and sister were killed eight years ago or someone was killed maybe two weeks ago.
For the people who are left behind, they are also statistics – it's exactly the same thing. They are still people; they are also victims of terror." For all of these individuals, the pain is always there … and for the world, it's yet another example of man's continuing inhumanity to mankind.
For bereaved parents, there is no greater grief than losing a child; but when a child dies suddenly as the result of a terrorist attack or in the service of one's country, it is the parent's worst nightmare. There is no time to prepare for the worst or somehow make their farewells. The parents in Living Beyond Terrorism may have had a very difficult time in finding closure; yet some have demonstrated incredible resilience, strength, and determination. They have turned their grief into doing good for others, turning the most negative episode in their lives into something infinitely positive. They have responded to pain and suffering by building, growing, making meaning out of suffering, and choosing life. To fill the big holes in their hearts created by their losses, these parents have channeled their grief, pain, anger, and helplessness into life-affirming activities of remembrance, education, and activism, honoring the memories of their beloved children and truly making a difference in their lives and the lives of others.
A family member's search for meaning often leads to creative expression. Each discovers his or her own personal way to meaningfully recognize and memorialize a loved one. Some heal by actively pursuing creative activities: writing books as a proper memorial for their loved ones and other victims of terror and "to increase awareness so that people will be more sensitive after a crisis"; or by expressing feelings of grief and hope through drawing and painting "to get the pain out from deep inside and maybe even find the light at the end of the tunnel."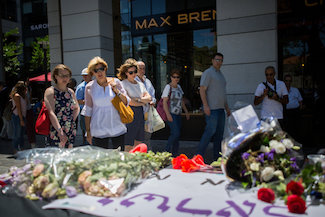 Others demonstrate their commitment to a loved one after his or her death through commemoration activities or by creating memorials to recognize and honor them. Commemoration may be spontaneous, as in the placing of flowers, pictures, and memorial candles at the site of an attack, or in the handwritten messages of love and remembrance painted on nearby stone walls. Later, the family and friends of the person who died may design and fund private commemoration at the place of the attack, in schools or playgrounds, on the internet, in the synagogues, and elsewhere, allowing people who never met the fallen to know something about them and, more importantly, to remember them.
Out of their disappointment in others who do not know how to react to their bereavement – like crossing the street to avoid talking, many discover the healing value of speaking about their experiences, creating opportunities to educate and raise awareness. They also recognize the importance of sharing their sorrow and overpowering feelings of loss and pain with other parents who have been there and whose grief only they can understand in a special way. They meet informally or in support groups, helping each other with comfort and even laughter.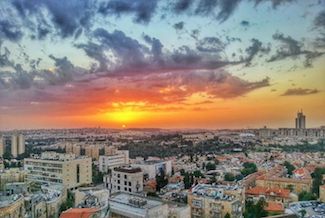 Finally, many bereaved parents search for and find the silver lining, constructing meaning through self-transcendence and altruism – selflessly helping others and contributing to society. Some have found meaning in their suffering by creating foundations to help people like themselves, struck by terror, be able to return to life with strength, hope, and healing. Through these acts of healing others, over time, these bereaved parents heal their own hearts and souls, and leave a legacy for future generations.
In their true-life stories of hope and determination to rebuild and to triumph over the terrorists – a victory of the human spirit – these remarkable people speak not just of moving on with life but of living next to their feelings of grief, pain, and helplessness, overcoming suffering, finding meaning and purpose, and moving forward to turn tragedy into action or activism. What might you learn from the people in Living Beyond Terrorism to meet your own challenges and to make choices that will help you live more purposeful and more fulfilling lives?

Zieva Dauber Konvisser, PhD, is a Fellow of the Institute for Social Innovation at Fielding Graduate University. Her research focuses on the human impact of traumatic events, such as terrorism, genocide, war, and wrongful conviction. She served on the National Commission on American Jewish Women and is currently on the international board of the Israel Center for the Treatment of Psychotrauma and the advisory board of Strength to Strength. She is the author of "Living Beyond Terrorism: Israeli Stories of Hope and Healing" (Gefen, 2014). The book can be ordered HERE.
---
Recommended for you:
---
LIVING BEYOND TERROR