Make Your Holidays Special with These Unique Dishes
By Judi Felber and Natasha Rosenstock Nadel
Our readers and staff sent us some tantalizing new recipes to excite your palate.
Add variety to your holiday menu with these innovative recipes. These recipes are for the modern palate that is used to fusion cooking.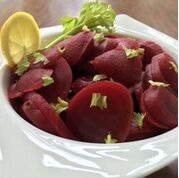 Copyright © Robyn Shrater Seemann
LEMONY BEET SALAD
Israeli's love their vegetables. Their focus on fresh, real food should be an inspiration to Americans. Even if you can't be in Israel enjoying the "salatim" this Rosh Hashanah, this recipe brings a little of that flavor to your table. Natasha Nadel presents her special Lemony Beet Salad that is a perfect way to start your Rosh Hashanah feast or any meal.



---
DESSERTS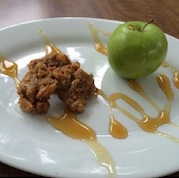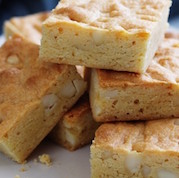 Even if you won't be in the land of milk and honey for the Yomim Tovim, you can enjoy the flavors of Rosh Hashanah with Natasha Nadel's special Apple and Honey Cookies that are a perfect way to end any Rosh Hashanah festive meal. If you're not in the mood for apples, try Rosh HaShanah Cinnamon Blondies.


---
BEVERAGES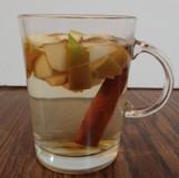 Relax with family over a warm mug of Apple Cinnamon Tea. Make simple drink of sliced and cored apples, a cinnamon stick, and star anise. The drink is delicious and sweet just on its own so no sweeteners are needed.
Try one of these new recipes or download a recipe from our Chagim Cookbook. Tell us what you decided to cook and how you liked it. Send your responses HERE.


BETEAVON & ENJOY!!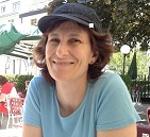 Judi Felber is a creative writer, editor, educator and development expert who made Aliyah with her family in 2006 at the start of the Second Lebanon War. Combining her strong communication and critical thinking skills with a deep love of Israel, Judi is the Communications Coordinator at Israel Forever.


---
More Israel Inspired Recipes for the Chagim:
---
GET READY FOR THE CHAGIM WITH RECIPES FROM ISRAEL