Making a Difference by Giving the Gift of Peace
By Daniella Tannenwald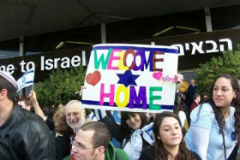 Aliyah is a time of ascension, a time when one commits to many possibilities and opportunities. An integral part of aliyah is the near-certainty of two very profound moments when, as a Jewish people, part of an incredible nation we stand together in support and unity. One is knowing that as Jews we are a persecuted nation, so there is the constant pending time of war, the other is when, as parents, we raise our children and then the time comes, when we know they leave home to serve in our IDF.
The need for togetherness and unity, nurturing, prayer and giving comes during the times of any war against Israel.
Our summer of 2014, Operation Protective Edge was no exception. Many families knew struggle, knew suffering and knew loss. Our soldiers served with dignity, and pride in their hearts, for the State of Israel and it's people.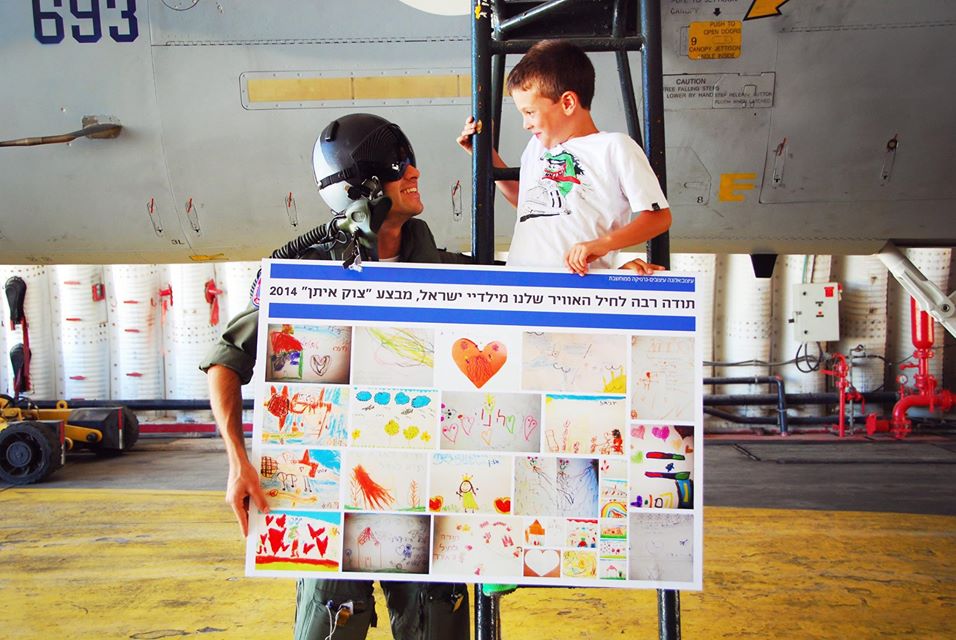 The need for togetherness and unity, nurturing, prayer and giving comes during the times of any war against Israel. Throughout the country the civilians were hungry to help and support.

No amount of prayer and donations was too much. It was a time of giving, lending that helping hand. A time of unity for Israel - our nation.
Our country was at war, a war in which everyone felt vulnerable. I was not one of those women to lie awake at night worrying about a child, or even a husband away from home and fighting for the rights of our country, our rights as a Jewish nation.

But that did not stop my fears and anxiety for those other women, some of them neighbors and friends.
How far out can one person reach? My mind was telling me that there are limits, my heart was telling me "you can do more".
I challenged my abilities, I searched for opportunities, I set my goals high.
On a visit to Tel Hashomer (Sheba) hospital during this time of war, I approached one of the Heads of Department and asked if she could assist me, or thought it possible for me to make a collection from the people of Modiin and deliver it to the wounded soldiers. She said it's a great idea, but they are so inundated with guests and family and so many donations have come forward. She suggested to me, to save my idea for a time when the war is over and some of these soldiers remain hospitalized.
I knew that was an answer but it wasn't the solution. I decided that the only way I could donate was "peace." Peace in any form - peace of mind, peace through healing, peace of soul. This is what I do everyday as my profession.
"That's It!!!!!! My profession."
The voice shouted loud and clear.
A general message came on my computer from the Modiin Absorption Department, to all the Olim, a request to therapists who could go to the South to give treatments.
I arranged to go, but the opportunity was cancelled.

In the conversation when I was told that travelling to the South was cancelled, I was advised that the following day, there will be 500 soldiers at the Modiin municipal pool, and they would be hosted to a barbeque and a fun day. Again they were looking for therapists. I jumped on this bandwagon and my friend Talia Tzadok, who is also a physio therapist, and I, ventured to the pool. We found an umbrella and shade next to a small group of soldiers, set ourselves ready to treat.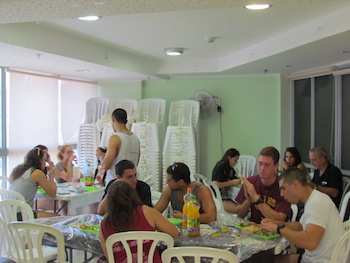 The soldiers swarmed around us, on a first come first served basis, in the short time we had, we managed to treat only just a few. But we made a difference. Not to the group but to the individuals. One such soldier who I was privileged to give a foot massage, realized that I was English speaking and we began chatting. Nice guys all of them - It was a fun day, yes for the soldiers, but so very rewarding for Talia and myself. We came home feeling elevated and content.
2 weeks passed. I received an SMS from this soldier who I met at the pool – an SMS from a Lone soldier:
On the weekend of the 28th my garin (group of lone soldiers) is meeting up all together for a special weekend where we reunite after the war in Gaza. We were thinking of doing a spa day with massages for our broken backs. I immediately thought of you. Do you do groups? If so, could you give me some details on location, prices, what it includes and duration. Have a pleasant week".
Four minutes later, without giving it a thought, with butterflies in my stomach from excitement.
I replied "Yes, sounds like fun. How many are you?"
His reply - "19"
This time my heart was saying "you can do it", but my head was saying "This goal is just too high".
Within 2 weeks, there were daily messages between the soldier and myself. The energy and excitement for us both (and his group) was building.
I knew that despite my organizational skills, I could never do this alone. I called on therapists that I had met over the few years I have been here, I posted on the Modiin list and on Facebook. The response was phenomenal. No one turned me down, I sensed that the passion to give to our soldiers was as deep as mine.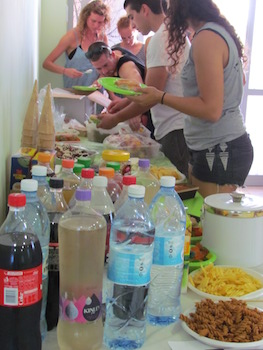 They had served us and now it was our time to serve them. It's the relationships of people that make results possible. It's sharing and caring, doing things FOR people, not TO them.
Donations, snacks and refreshments, toiletries, pictures from children came flooding in.

We were 7 massage therapists and 3 pedicurists.

The soldiers were to be hosted by the Municipal pool.

8.00 am - the morning of the event, 2 therapists cancelled and a friend messaged me to say the pool is closed. Technical problem.

The event was happening, I was certain about that, but panic set in.

I called Talia, she calmed me down and then she called Holmes Place who willingly came to my rescue.

As for the therapists, we just doubled and trippled and worked a little harder and stronger and.........we did it.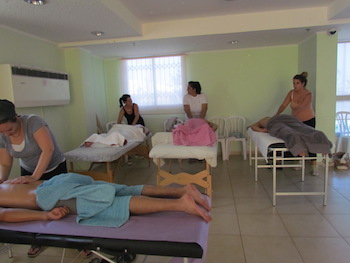 On the 29th of August 2014 - our spa day was born.
The soldiers arrived together with their Rakaz.

They were welcomed and we arranged the lock up of their weapons.

Breakfast sponsored by Holy Bagel of Modiin in the venue of Dimri 49 (thank you to the vaad for donating)

The guy soldiers were taken to Holmes Place (free admission and use of all the facilities - sauna, jacuzzi, gym and swimming pool). The girl soldiers remained behind to receive a half hour back massage and a half hour pedicure - yes nail polish included. We then changed over and the guys returned and the girls were taken to Holmes place. Each soldier received a 45 minute massage. Around 4.00 pm the girls returned and lunch was served, catered by Hamitbachon shel Sima (keiser centre) ready home cooked meals. Throughout the day the soldiers had cakes, cupcakes, sweets, popcorn and soft drinks - all donated by many Modiin residents.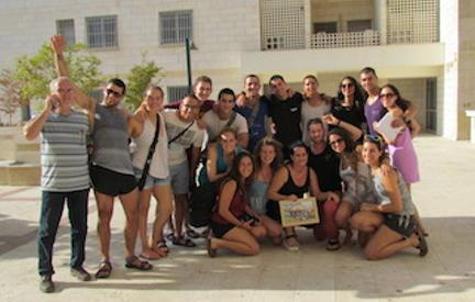 5.30 pm - We bid farewell to our 19 Lone soldiers and their Rakaz, and they continued their journey to spend the Shabbat in Jerusalem.

I thank my husband Uchi and my daughter Shiara - who encouraged and assisted me to organize the day with precision. And I salute the Modiin residents who contributed.

We ended the summer on a high. We have met some incredible young soldiers, and introduced them to our beautiful city of Modiin and we have satisfied our need to show gratitude, to make a very small difference.
For now..........we have peace. But there isn't a single one of us who isn't still affected by the conflict of only less than 2 months ago. Knowing we can all make a difference helps us all feel united in our hope that the peace will continue.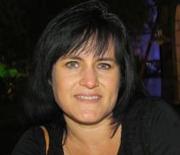 Daniella Tannenwald made Aliyah from South Africa and believes, "My success is the passion and belief that I have in my work, and this I pass on to those that enter my place of healing, a place you can call "your sanctuary"." Come visit Daniella at her spa Scents of Mind


---