Meats and Veggies of the Mangal, and So Much More.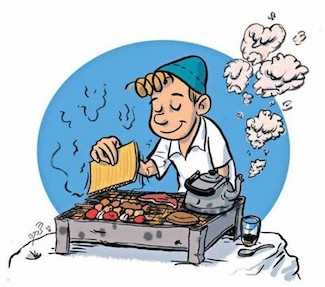 Israelis are experts at making the most out of whatever is available, whatever one can afford. Using every herb and spice imaginable, affordable cuts of meat get dressed up and made into delicacies by the master chefs of Israeli home kitchens, men and women alike. Kebab and pargiyot can be found on just about any mangal, alongside chicken wings, thighs, legs, livers and, yes, hearts. Of course you can stick the meat on a skewer with some veggies and you've got yourself SHISHLIK.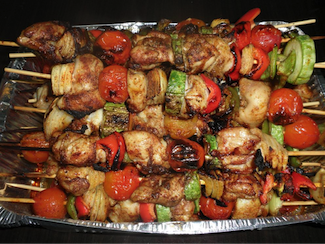 Ah, Shishlik. Finger licking fun for the whole family.
Skewered meat is a big time fave for kids that of course everyone in the family enjoys. You can have fun pairing cubed chicken breast or steak with a myriad of vegetables that cook up perfectly every time.
We suggest adding spices to all your veggies of course, and you can spice the meat and the veggies differently on the same skewer.
SOME OF OUR FAVORITES:
Zaatar spiced chicken breast with sumac onion, zucchini slices, cherry tomatoes and yellow pepper
Cinnamon and spice chicken livers with cumin and garlic eggplant, gingered red pepper, and red onion chunks
Salt and pepper cubed steak, thyme and balsamic spiked portobello mushrooms and red pepper and onion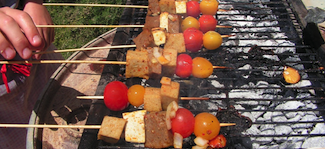 Soy soaked tofu, ginger and honey sweet potato chunks, and garlic salted mushrooms
---
Veggies on the Grill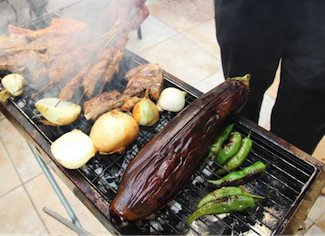 Adding fresh vegetables to your grill is a great option for vegetarians, vegans and of course to balance the meat eaters. Israelis love to toss vegetables whole or halved onto the grill - tomatoes, zucchini, onions, sweet potatoes, kohlrabi, (and foil covered potatoes roasting amid the coals of course) you name it! Serve alongside glorious salad dishes like Tabouli, mutbachta, or just a big plate of hummus and tehina.
I MUST recommend a personal favorite: Butternut Squash slices! If you've never tasted them drizzled with olive oil, sprinkled with cinnamon and hot off the grill, you are MISSING OUT! Cut lengthwise, or into rounds, either way, you will love the caramelized flavor of this amazing veg on the grill.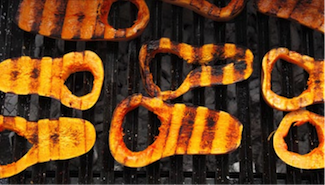 A big Israeli favorite is Chatzil Baladi, "exclusive eggplant" - toss the eggplant on the grill, or wrap in tin foil if preferred, and leave until blackened or soft to the touch. The meat inside will be melty goodness. Just slice down the middle and open it up, use a fork to mash the eggplant "meat", and fill with chopped tomatoes, cilantro, parsley, sea salt and drizzle with tehina and olive oil. Dig in!
---
Vocab List:

Mangal - מנגל - bbq/grill
Ktzitzot - קציתות - mini "burgers"
Kebab - קבב -beef "sausages"
Entrecote -סטייק אנטרקות - steak
Of - עוף - Poultry/chicken
Knafayim - כנפיים - chicken wings
Kiraim - כרעיים - chicken thighs
Pargiyot - פרגיות - spring chickens

The huge demand for meat suitable for grilling gave rise to some unique inventions, one involving a product known locally as pargiyot, literally meaning "spring chickens". Many people still believe these are a different breed of poultry, or chickens slaughtered while they are young. In reality, they are the meat cut off the thighs of ordinary chickens; the name was thought up by restaurateurs to add chic to mundane poultry. This dark meat with a relatively high fat content is much better for grilling than lean chicken breasts. - Janna Gur

Shishlik - שישליק - skewered meat
Batzal - בצל - Onion
Gamba - גמבה - Peppers (red/yellow/orange/green)
Chatzil - חציל - Eggplant

For more vocabulary lists related to cooking, check out this great resource by Nefesh B'Nefesh
---
Recommended Mangal Recipes:
---
BBQ ISRAELI STYLE