Meeting of Souls: Healing Arts at Revitz House
As part of our Israel in My Art program we invite individuals of all ages and developmental stages of life to create artwork that sends uplifting messages of hope and solidarity to various segments of Israeli society.
Considering the current situation in Israel, with the country poised on the brink of war and the communities in proximity to Gaza suffering from daily arson terror fires and balloon bombs, it seemed fitting for us to dedicate our most recent art event to survivors of terrorism and war.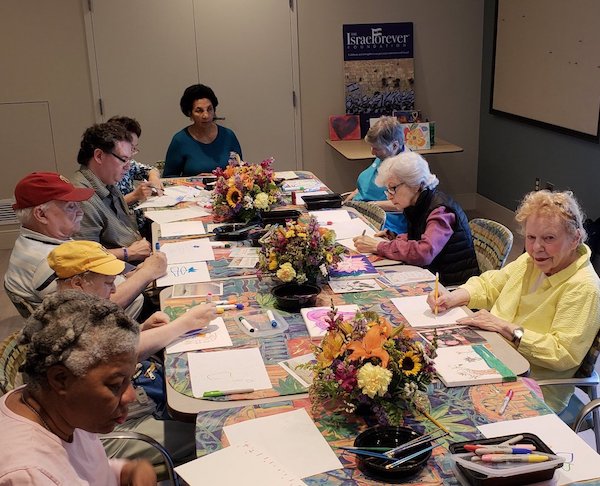 When brainstorming locations to host a local event, Israel Forever's co-founder Phyllis Greenberg Heideman suggested that we call the Revitz House, a community for older adults and persons with disabilities, where Phyllis' 94 year old mother who grew up in Tel Aviv now currently resides. For nearly 13 years, we have single handedly watched Revitz's commitment to caring for community members in need as a model for others to follow. This was a perfect opportunity - to ask residents to share the enormous amount of love and warmth they have to give with people in Israel who will appreciate knowing they are not alone.
Participants included a mix of older adults, stroke victims, and persons with disabilities, all working together to create artwork for survivors of terror attacks in Israel.. Looking around the room, it warmed our heart to see their enthusiasm for our activity, their desire to create something beautiful to give to somebody else, to lift the spirits of someone going through a traumatic experience. It was also touching to see how supportive they were of each other.
They had been asked to do something of value and they poured their hearts and souls into the activity. The family of Israel is hurting and they had the power to make a difference, create a smile, bring a feeling of comfort and peace to someone who needs it.
It's not very often that one has the ability to do a double mitzvah. In bringing Israel Forever's Healing Arts activity to Revitz House we were able to do just that. The gratitude from the participants in the room would be enough to let me know it was worth our time to be there. To know that the recipients of the artwork in Israel will receive the message that they are cared for and not alone is a mitzvah times two.
Two communities, thousands of miles apart, who will probably never meet each other in person but, through this simple expression of love can have a meeting of souls. Their lives probably would not cross paths through any other venue but through Israel Forever we are forming bonds in the most important way - through the heart.
Throughout our two hours together they were complementing each other on their work and thanking our Israel Forever team for bringing this great program to them. They repeatedly asked how soon we could come back and do this with them again.
The residents of Revitz House reminded us that every single one of us can make a difference and that, although we may be separated by distance, age or even abilities, we all belong to the family of Israel.
What a simple way to have a profound impact!!
Do you know people in your community who would enjoy participating in a Israel In my Art - Healing Arts activity? Contact us and together we can create more meaningful encounters and deepen connections to Israel!
---
Recommended for you:
---
LETTERS OF FRIENDSHIP STRENGTH & SOLIDARITY

About the Author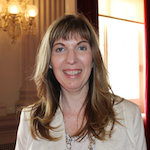 Heidi Krizer Daroff is a longtime activist for Israel and a volunteer with a number of organizations, finding unique ways to help the Jewish People and the Jewish State. While her passport indicates that she does not reside in Israel, her heart definitely does. Previously having served as North America Director for Israel Forever, Heidi continues to share her passion for Israel with others in as many ways as she can.