A Young Mother's Connection
The following remarks were shared by Pnina Agenyahu, JFGW Senior Shlicha for Israel Engagement, at Vigil for Eyal, Gilad and Naftali on Wednesday June 18, 2014 at The Embassy of Israel in Washington, DC. #Bring Back Our Boys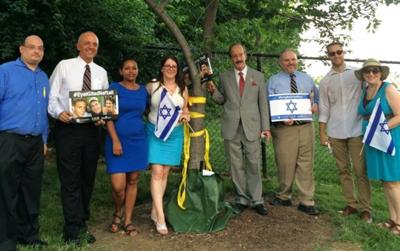 I'm so moved to see this large crowd here today. Thank you to everyone who came to show your support and solidarity. The Jewish Federation of Greater Washington and the entire Greater Washington Jewish community stands and supports the State of Israel and the people of Israel not only in these difficult days but 365 days a year.

Every day Israel is in our minds and hearts.


Three Israeli teenagers, Gilad Sha'ar (16); Naftali Frenkel (16), and Eyal Yifrah (19), were kidnapped on Thursday night, June 12th.


We should remember that the hostages are children who have done nothing wrong.
Several months ago, 200 girls were abducted by Muslim extremists in Nigeria; this is a phenomenon that needs to be obliterated. We cannot ignore these tragedies; it is not about the Israeli – Palestinian conflict or which side we are. We are talking about, extremist vs innocent people, civilians versus terrorists; this is not a case of soldier's hostages in the middle of a war.
This is a heartrending time for the kidnapped families, for the State of Israel and the Jewish people as well.
As an Israeli representative living here away from my homeland, my heart was broken when I heard the terrible news on Friday morning. Hearing about the abduction of the three boys took me back to June 25, 2006, when Gilad Shalit was kidnapped. We felt very lucky to have him return home safely after five years of being in captivity.
Today, I'm hoping and praying we will be so lucky again.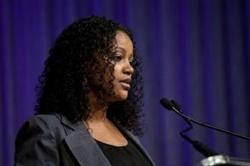 As a young mother, I know I would never be able to sleep at night if it was my son. I wonder how the three boys are doing. I wonder if they have eaten. I wonder if they are hurt. I wonder how they are managing, what they are thinking and feeling.
At this time, the Jewish community must stand strong together with our fellow Jews in Israel. We join with Jews around the world to offer our prayers, thoughts and solidarity to the families of the three boys. We are a community standing in solidarity with the families and pray for a safe and speedy return.
הִנֵּה לֹא-יָנוּם, וְלֹא יִישָׁן-- שׁוֹמֵר, יִשְׂרָאֵל.
יְהוָה שֹׁמְרֶךָ; יְהוָה צִלְּךָ, עַל-יַד יְמִינֶךָ.


Behold, He that keeps Israel neither slumbers nor sleeps. God is your keeper; God is your shade upon your right hand.
Pnina Agenyahu is the Senior Shlicha for Israel Engagement at The Jewish Federation of Greater Washington and The Jewish Agency for Israel and one of Haaretz's 66 Women to Watch.
---
Join us in our efforts to share the personal reflections and create awareness to #BringBackOurBoys
---
SPEAK OUT. CALL OUT. RAISE YOUR FLAG.