Remembering the Holocaust In Israel's National Living Room
"This was the most moving event we've hosted here at Beit Hanassi," President Reuven Rivlin told a small group of visitors to the official residence on the day before Holocaust Remembrance Day.
When they opened the national living room to the Zikaron B'Salon (Remembrance in the Living Room) group, President Rivlin and his wife Nechama joined thousands of Israelis who are engaged in a new form of Holocaust education and memory.

Initiated six years ago by a group of Israelis in their twenties and thirties who were concerned that their connection to the events that seared their grandparent's generation was weakening and that official Holocaust commemorations didn't speak to their generation, Zikaron B'Salon provides a framework for a more intimate connection to the last of the survivors and their testimony.
The idea is simple—either host or join a neighborhood group that invites a survivor to tell their story. Sign up via a Facebook page or on the website; hosts receive a kit with suggestions for how to run the evening; participants are directed to their closest salon event.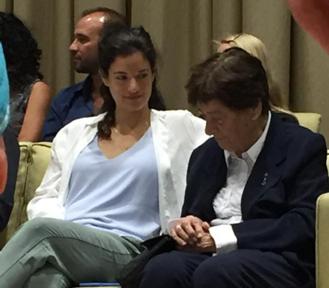 Copyright © Judy Lash Balint
Listen to the testimony in the comfort of someone's living room; initiate and take part in conversation on preservation of Holocaust memory. Include appropriate readings or music and absorb the meaning of the events of 70 years ago that continue to impinge on almost every aspect of Israeli society.
President Rivlin invited neighbors who live across the street from Beit Hanassi, including a survivor and her granddaughter and a couple of retired immigrants from Maryland. They joined fifteen of the Zikaron B'Salon organizers in the reception hall of the Presidential residence.
Rivlin told the group that he was born 9 days after the outbreak of WWII, to a family that had lived in Palestine for more than 150 years. "It was only after the survivors started coming that we began to understand what had happened to our people," Rivlin admitted.
Sitting quietly next to Rivlin, Meir Ginosar, a trim, wiry man with watery blue eyes and a wry smile, nodded. The group leaned in to catch his breathy words as Meir started to recount the story of life in the ghetto, the horrendous cruel events he witnessed as a pre-teen, the transfer from one concentration camp to another and his participation in a death march.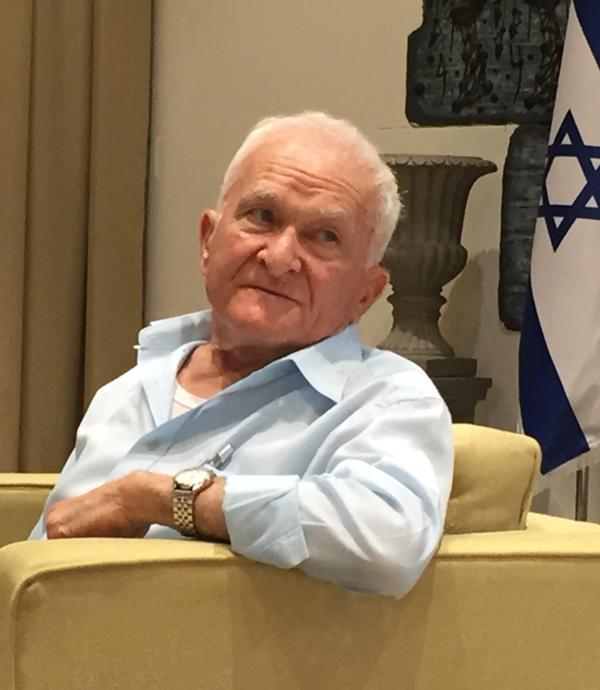 Copyright © Judy Lash Bailint
Father of three and grandfather of nine, Meir explained why he had kept silent for almost 70 years. His Iraqi-born wife who died a few years ago hadn't heard the whole story of his truncated childhood and miraculous survival—"I wanted to lead a normal life; to work, to raise a family. I drew a line after my youth and that was that," he said.
Meir and his brother survived and came to Palestine, arriving on Rosh Hashana in 1945. "I weighed 30 kg (about 67 lbs) when I got to Belgium after the war," Meir said as he pulled out the black and white striped camp inmate uniform that hung from his emaciated frame for almost six years.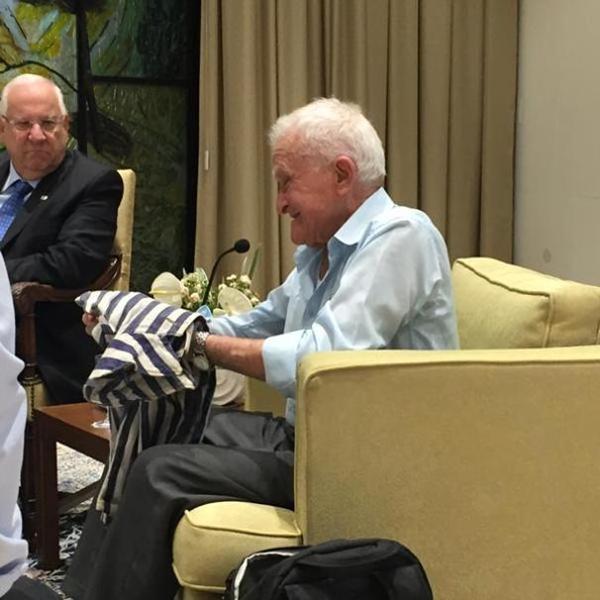 Copyright © Judy Lash Balint
After a period of rehabilitation on a moshav where he was taken in by a family, Meir joined the Palmach and fought in many battles in the War of Independence.

"Whenever there was a call for someone to volunteer for a dangerous assignment, I raised my hand to volunteer. After what I went through in Europe, nothing could scare me."
After the War of Independence, soldiers were discharged and told to go home. "But I had no home, no family," Meir recalls. "Still, I have no complaints—I built a life and a beautiful family: I still work," Meir said with a smile.
Meir refused reparations from the Germans, and asserts " People can heal, but you can never wipe out the dreams—I have no control over them."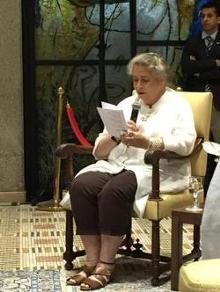 Copyright © Judy Lash Balint
Following Meir's testimony, First Lady Nehama Rivlin read a poem and three young singers sang a contemporary Israeli song about memory and optimism, something quite unique to Israeli Holocaust remembrance.
There was time for dialogue, questions and photos to mark the occasion that connected these Israelis to the Holocaust in a powerful, passionate, personal way sometimes lacking in the ceremonies filled with pomp and symbolism.
As the survivors continue to pass from our midst, ​we each become responsible to pass on the testimony: to ensure that the personal stories are added to the formal commemorations, and to develop new traditions to keep the memory meaningful for future generations.
---
Recommended:
---
Be a part of carrying the legacy of memory to future generations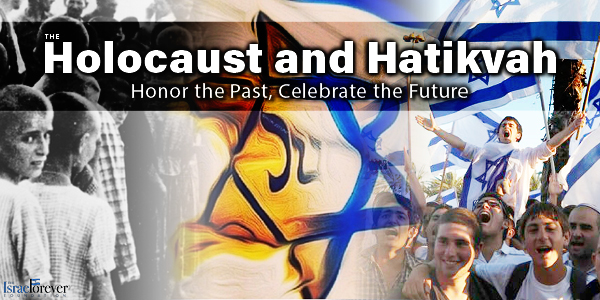 About the Author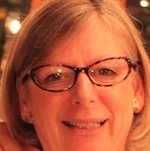 Judy Lash Balint is a Jerusalem-based freelance writer. She is author of Jerusalem Diaries: In Tense Times and Jerusalem Diaries: What's Really Happening in Israel. Judy hosted the Jerusalem Diaries Show on VoiceofIsrael.com and is currently a staff member at a leading Jerusalem think tank. Her articles have appeared in publications worldwide.