Rosh HaShanah: Just A Few Days Away?!?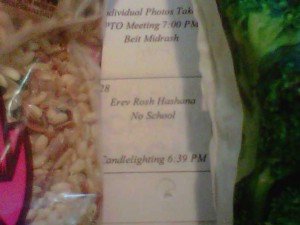 Has this ever happened to you? I looked at the calendar recently and my mind began racing so fast I had to steady myself by sitting down on a chair. Where had the time gone? I was pretty certain I'd spent it wisely but still, was I reading this correctly?
Was Rosh Hashanah just days away? How was this possible? This past summer was delightful as I was able to spend a lot of time with my husband and daughters in Israel. My girls and I went to bed late most nights, slept even later the next morning and meandered through most days in a wistful and relaxed fashion (while my husband was busy working). There was no homework, no after school activities, no appointments, or deadlines. After a busy jam packed school year this was such a relief!
Last September had started off with a bang. Right after Labor Day (the traditional end of summer day off) the fall holidays began and it was a seemingly never ending cycle of menu planning, shopping, cooking, synagogue, and repeat. Everybody I came across was remarking that this year would be easier. There was almost a month between Labor Day, back to school, and the holidays. We all had it in our heads that we'd have some breathing space but as I glanced at the dates in front of me I couldn't help but think, "Oh No! I forgot to breath!!" Then I did what Jewish women have been doing for centuries, I shifted into high gear as there wasn't a moment to waste! I began searching through my cookbooks and came across last Rosh Hashanah's menu and shopping list! Although, I decided to make some changes to the menu it was a relief to have the first step or two in the process completed. After polishing up my proposed meals I went to my local grocery and began purchasing the food items that won't spoil.
Somewhere between the bag of brown rice and the frozen broccoli it hit me, preparing for the fall chagim (Jewish holiday's) is so much more than food prep. In my heart I know that it is really about self reflection. How have I spent the last year of my life? Did I use my time wisely? Did I engage in the things that make me happy? Was I a good mother to my children? Did I set a good example for them?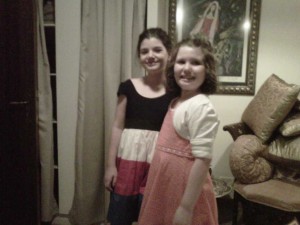 As I write this my older daughter is doing her Hebrew homework and my younger daughter is singing the Aleph-Bet song! Dinner is cooking in the oven and I've added some fresh spices that I purchased at the Shuk in Jerusalem. When I washed my hair this morning I used my shampoo that was manufactured and purchased in Israel. I surround my family with all things Israel because I know that it is the eternal Jewish Homeland.
While there is always room for self-improvement, I believe that time and energy spent growing our connection to Israel is indeed time well spent. To that end I have begun working with the Israel Forever Foundation as their Director of Social Media Communications. I'm thrilled and honored to join an organization that is dedicated to furthering the Jewish love of and connection to our Homeland. I look forward to engaging with you and learning what it is that connects you to Israel.
So as the book of life opens I pray for a year of peace for all of us. A year to further commit ourselves to the never ending bond between God and the Jewish people. A bond that began in Israel and will continue to blossom from there forever.
Shana Tova u'Metuka!
About the Author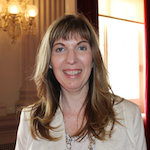 Heidi Krizer Daroff is a longtime activist for Israel and a volunteer with a number of organizations, finding unique ways to help the Jewish People and the Jewish State. While her passport indicates that she does not reside in Israel, her heart definitely does. Previously having served as North America Director for Israel Forever, Heidi continues to share her passion for Israel with others in as many ways as she can.