Saferoom Art
By Nina Elizabeth and Shira Frimer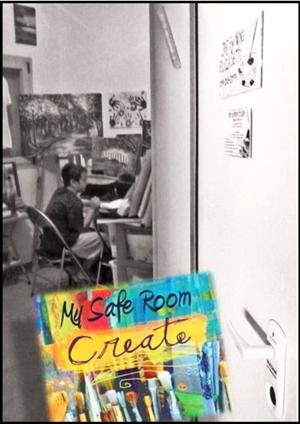 My bomb shelter is my art studio.
I believe that there is a strong connection between mind body and soul and all these need to be addressed to help a person come to a place of real healing.
Since the current conflict in Israel began, my family and I have found ourselves in the steel-enforced safe-room that used to just be my art studio, gazing at the paintings on the walls and waiting for the shaking boom that indicates the missile headed for us has been intercepted. When the siren wails I have 60 seconds to gather my children and run to our safe room. It used to just be my studio.
It is in this safe room that I began to understand the positive impact art could have on our panic-stricken population.

We are seeking shelter from the incoming barrage of rockets – but we are equally in search of a safe space that provides an escape from the fear, confusion and anxiety of war.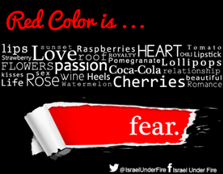 Huddled in our safe room, my children have turned to art: as we wait for the sirens to stop, they reach for my brushes and paint. Their fear paints red fire, green tanks and black smoke, while their childlike hope paints blue skies, yellow sunshine and smiling faces.
This therapeutic outlet has become integral to how our family is coping, and it is my belief that many other families could likewise benefit from the redemptive power of artistic expression.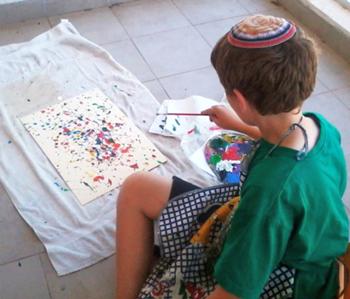 Art speaks the language of human expression. As an expressive art counselor, I have witnessed first-hand the healing power of creativity. I hold a Graduate Certification (MA) in Gifted Education for Creative Students and for the past five years I have been teaching therapeutic art courses and hosting special events throughout Israel.

I have seen how art builds confidence and contributes to the emotional well-being of the participants. Painting events are filled with laughter, positivity and a feeling of connection, and participants leave feeling accomplished and proud of their completed masterpiece.
"I've attended several of Nina's therapeutic painting events and found them to be very effective at reducing stress and connecting with others in a relaxing and fun way. Nina painting events seek to provide a few hours of relaxation and fun for those who need a creative escape" - Y.M. (Rehovot)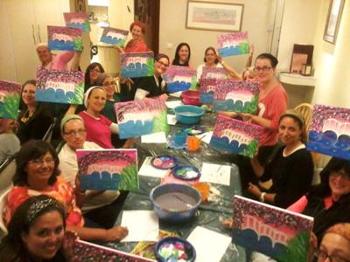 During this time of intense anxiety, we are all paying an emotional toll. However, stress will not end with the current crisis – the long-term pain and trauma of war will haunt Israel's citizens long after the last siren has wailed. Many people are already experiencing deep psychological strain. These individuals feel isolated, angry and confused. If left untreated, these feeling may deteriorate into depression.
While all Israelis are suffering, for families waiting for a loved one to come home from the front lines, the anxiety is indescribable. When a soldier is deployed, the family members live from minute to minute, waiting for news. Even the simplest daily tasks can feel overwhelming. Sending a loved one to war is an unimaginable experience, and it is these families who are most in need of a therapeutic outlet.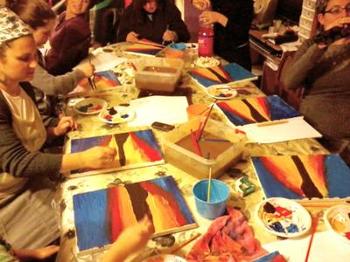 The families of our IDF soldiers deserve a creative escape - I held a therapeutic painting event for 25 women in Ramat Bet Shemesh who desperately needed a creative distraction from the stressful events currently affecting us. The effect was incredible; I watched in awe as everyone left smiling and filled with hope, empowerment and positivity.
Together with my dear friend Shira Frimer I have decided to embark on a journey to bring art therapy to those who need it most – the families of the IDF.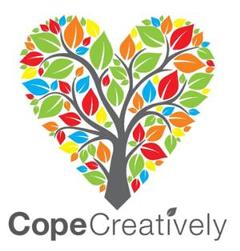 It is our goal to offer free therapeutic painting events around Israel for the mothers, wives, siblings, and children of our soldiers. During this difficult time, we believe that a creative, safe and fun environment will provide a brief respite from the trauma of war. It is our hope that participants will be able to leave these events with a smile, despite it all.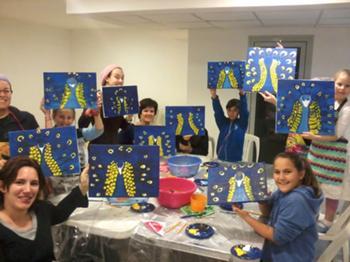 Together we can bring the healing power of creativity to those who need it most!

Nina Elizabeth teaches Expressive Art in Israel and specializes in working with gifted and special needs students. Nina believes that being an educator and counselor goes beyond just teaching the material — it's about making a personal connection with the students, helping them develop life skills, and inspiring them to want to succeed! For more information go to www.artbyninaelizabeth.com
Shira Frimer is an exceptional expressive art therapist and founder of the Cope Creatively Clinic in Rehovot. This inspiring private clinic offers art therapy to children and families who have experienced trauma or are overcoming great obstacles. Shira is also the author of Nistar, a graphic novel with the world's first superhero for children fighting cancer.
---
How do you seek to make a difference for Israel, for yourself, for our fellow Jews?




---
USE YOUR CREATIVITY TO MAKE A DIFFERENCE