SHARE YOUR ACTIVITY WITH ISRAEL FOREVER
---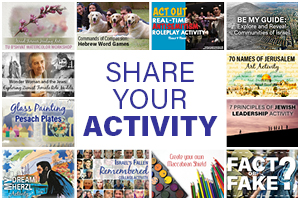 Israel Forever, as an Israel Engagement Organization that welcomes a variety of voices and perspectives, to emphasize all aspects of the Israel connection in an apolitical, non-denominational, inclusive context. We are proud to offer a wealth of programs and activities, including games, lesson plans, art projects and more, appropriate for individuals of all ages. We invite you to share an activity that you have developed to be included in our database of Israel-inspired educational resources.
Your contribution can inspire others to explore and strengthen their connection to Israel and help us foster a ZionProud global community.
Once your piece has been approved, a member of our team will contact you to facilitate the publishing process.
Please Note: If you have any trouble submitting, please send an email to blog@israelforever.org.