Sharing the Light: Laughing With Israel All Year Round
By
You've seen how laughter can bring the light to Chanukah, but why end it there? We want to help you laugh with Israel all year long!
Keep the spark going by sharing your IsraelLove in a most humorous way!
From now through Purim, we welcome your submissions to LAUGH WITH ISRAEL to be included in a Global Purimshpiel!
The Purimshpiel is the traditional Jewish Purim comic dramatization of the stories of our history when our enemies tried to destroy us and yet we survived, outlasted, and rejoiced. But since there are SO many (too many) times in our history and even today that deserve reflection and celebration, we invite YOU to honor the Maccabees, Esther and Mordechai and continue to celebrate the defeat of our enemies by "killing them" with laughter! After all, laughter is a weapon of mass destruction when used correctly.
Whether it be jokes, sketches, improv, parody, film, satire or spoof, you can WIN special prizes and show your IsraelLove to the world.
Here's how it works.
Gather your school, community group, youth movement, family or even just a random group of friends. Sign up and let us know you are participating so that you can be united with your fellow Jews around the world also taking part in this Global Israel Comedy Fest. Think of topics that evoke something funny about Israel: ie: camels vs. cars, falafel vs. schwarma, taxi drivers yell at you then invite you to Shabbat dinner, never ending crowds of Birthright students all summer long, floating in the Dead Sea, using Hebrish (a hybrid of Hebrew & English) to get around, soldiers everywhere and then incredible feeling of safety, loud Israelis, culture clash, the humor in religion and state issues (read: long beards not allowed in the army), pick any politician and get plenty of material, driving in Israel, dating and dating, and then more dating, mothers (Jewish mothers is an international phenomena), start-ups- you must have the latest app or technology that is both funny and imperative to the world.
Make a video of your joke or sketch and submit it to IsraelForever.
We will feature your comedy on the campaign page, where many can enjoy and laugh along.
Every entry will be submitted into our Israel Comedy Fest Contest with the opportunity to win great prizes. And viewers will vote for their favorite. You'll be able to encourage your friends to vote by using the hashtag #LaughWithIsrael. Our esteemed panel of expert comedians will review and select the top 3 winners to be announced on Purim and will receive
Best of all you are contributing to a new wave of Israel protray online, giving the world a unique opportunity to see the Jewish Homeland in a new light. Beyond the headlines, these videos will showcase our humor, culture, and ability to laugh at ourselves even during the hardest of times.
---
To get you inspired, here are a few favorite standup acts that laugh WITH Israel in a positive and uplifting way.
---
And here are some Israeli kids getting into the spirit!
The point of the laugher is to break our own boundaries so ADD YOUR LAUGHTER TODAY!
---
Recommended:
---
LIGHT THROUGH LAUGHTER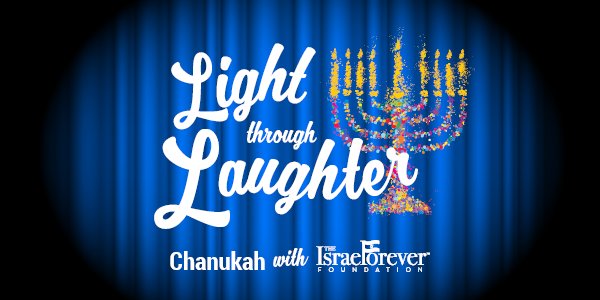 Celebrate Chanukah with Israel Forever