Sign The Petition! AirBNB Standards For Israel Must Be Equal and Nondiscriminatory
By Zach Schapira
In a stunning victory for the global movement to boycott, divest from, and sanction Israel (BDS), Airbnb recently announced its decision to "remove listings in Israeli settlements in the occupied West Bank."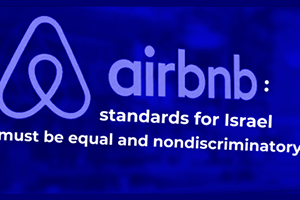 This policy is unequal and discriminatory because it effectively restricts Jews living in one region from renting their homes on Airbnb, while allowing non-Jews living in the same region to continue renting their homes. It is also the only such policy anywhere in the world, despite the myriad disputed territories where Airbnb operates.
The announcement did not come unprompted: BDS lobbied Airbnb relentlessly and ultimately garnered over 150,000 signatures to help advance their cause.
The campaign wore on the company's leadership, and while they had steadfastly resisted pressure for years, Airbnb ultimately made a calculation this November that the ire of 150,000 people was not worth retaining 200 listings in a disputed area.
They miscalculated. We will not remain silent while companies and institutions, influenced by bigotry and misplaced activism, adopt policies that selectively discriminate against Israel and the Jewish people.
It is now the moral responsibility of all fair-minded people to help restore justice. That's why the J'accuse Coalition for Justice, The Lawfare Project, Shurat HaDin, StandWithUs UK, and the Israel Forever Foundation have partnered together to cosponsor a petition to deliver a powerful message to Airbnb.

While our representatives and community leaders are already pursuing many additional avenues to help reverse this policy, including a federal lawsuit and a campaign to delete personal Airbnb accounts, we must band together and convey in one unified voice: we will not stand for this. Just yesterday, Airbnb executives were in Israel. And though they now claim "an even deeper understanding that this is an incredibly complex and emotional issue", they remain committed to "developing the tools needed to implement our policy."
---
Recommended for you:
---
STRONGER TOGETHER

About the Author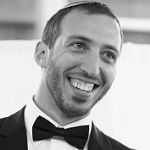 Zach Schapira is executive director of the J'accuse Coalition for Justice, a nonprofit organization dedicated to combating anti-Semitism and anti-Israel bias. He was previously a deputy platoon commander in Israel's Special Air Forces, earning the President's Medal of Excellence for his service.