Stemming the Tide of Hatred
By Winston Pickett
Every year, for the past 10 years huge crowds gather in central London at this time of year for the annual Al-Quds Day March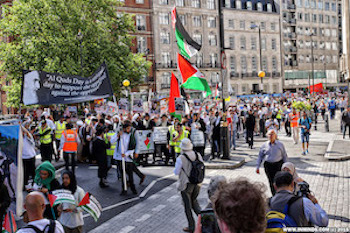 Every year, the placards come out, Hezbollah flags are raised and calls for Israel's destruction fill the air.
Every year, these crowds go unopposed.
Not this year.
On Sunday, for the first time since the annual, state-sponsored vilification of Israel began on the streets of the UK's capital city a decade ago, hundreds people will gather take a stand against the ever-growing miasma of unfettered hatred and show their support for the state of Israel.
Why now?
With every Al-Quds Day rally the levels of incitement and calls for Israel's annihilation have increased, and with it, the levels of antisemitism. This time, three grassroots organizations – Sussex Friends of Israel, the Israel Advocacy Movement and the Zionist Federation – have taken to social media with videos, posters, Facebook links, Twitter feeds and word-of-mouth to spread the word that the hatred gripping Europe, the UK and around the world – particularly emanating from Islamist groups claiming credit for atrocities seemingly on a daily basis – cannot go unanswered.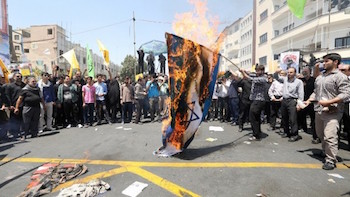 No one denies how deep – or how organised – this hatred runs. The Al-Quds Day rally is organized by the Islamic Human Rights Commission (IHRC). This year it will end in front of the US Embassy at Grosvenor Square. Throughout the day, pro-peace and pro-Israel supporters will see hundreds waving Hamas, ISIS and Hezbollah flags, which IHRC has failed to condemn. In the UK, Hamas and ISIS are designated terrorist organizations, while only Hezbollah's "military wing" comes under that rubric.
It is simply wrong that the flag of a prescribed terrorist organization credited with deadly attacks against the citizens of Israel should be allowed to be flown on the streets of London. Hezbollah's political wing and Hezbollah military wing are one and the same. Both are committed to the destruction of the Jewish state.
Their terror campaigns are often fuelled by a deeply antisemitic ideology which has been widely documented. Moreover, this is not just a political campaign of hate against the State of Israel but a concerted attack on Jewish communities across the globe. It is also manifestly illegal.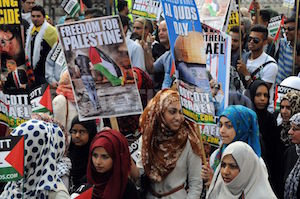 Although British law, in line with the Human Rights Act 1998, allows for freedom of speech and the right to demonstrate, the law is equally clear on racial and religious hatred. Those who will be gathering under the 'Stop The Hate – Stand With Israel' banner believe that under The Racial and Religious Hatred Act 2006, many at the Al-Quds march – and arguably the march itself – falls foul of this legislation. As in years past, its tone and rhetoric will be used to incite hatred against the Jewish people.
This year we refuse to allow this incitement to go unchallenged. Speakers will include Hillel Neuer, executive director of UN Watch, MP Matthew Offord, and representatives from a cross-section of the organized British Jewish community, including Jonathan Arkush, president of the Board of Deputies of British Jews, Simon Johnson, chief executive of the Jewish Leadership Council and Paul Charney, chairman of the Zionist Federation of Great Britain.
In addition, robust arrangements have been made with the Metropolitan Police and the Community Security Trust that we will be able to demonstrate peacefully.
There is no clearer moment for us to shake off the paralyzing fear that ripples throughout our community with each atrocity, act of brutalizing hatred that metastacizes into racism, xenophobia and antisemitism and insinuating its way into public attitudes and discourse. And there is no more suitable place to start a campaign than by targeting groups for whom incitement is a firm ideological plank in their political platform.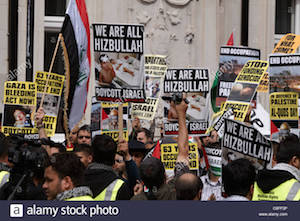 Hezbollah is a terrorist organization. No amount of political correctness by the British government will deflect that. It should and must be placed on the EU list of proscribed terrorist organizations – not one part, but all of it.
Maybe, just maybe, by turning up in numbers we'll be able to drive that message home and show our unconditional support for the Jewish state.
At the very least we'll show this year, it won't be business as usual.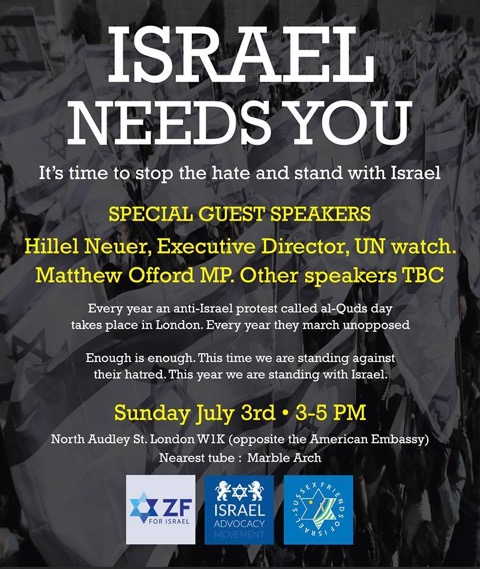 Winston Pickett is a writer, analyst and communications consultant living in the UK. A regular contributor to the Jewish Chronicle, he also is the UK correspondent for theJerusalem Report and the Jewish Telegraphic Agency. Recently he was director of the European Institute for the Study of Contemporary Antisemitism and served as communications director for the Board of Deputies of British Jews and external relations director for the Institute for Jewish Policy Research.
---
Recommended:
---
AM YISRAEL: FOSTERING JEWISH UNITY AND PRIDE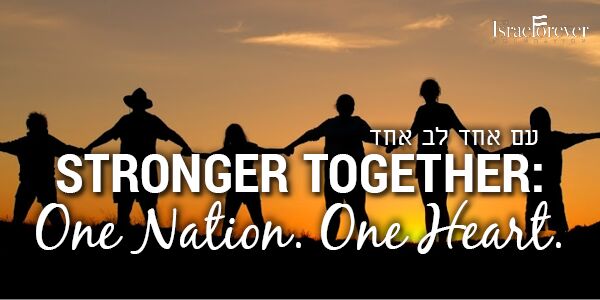 How are you making a difference for Jewish Unity?