The IDF Has Room For All
By Yossi Kahana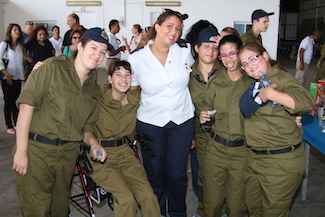 In Israel, the vast majority of typical high school graduates serve in the Israel Defense Forces (IDF) but, did you know that thousands of young people with cerebral palsy, autism, and intellectual disabilities were turned away from service? These individuals had been turned away from proudly serving their country until Special in Uniform opened the door for them. Special in Uniform is a very unique program, now operating in partnership with Jewish National Fund (JNF), integrating young people with autism and other disabilities into the Israel Defense Forces (IDF) and, in turn, into Israeli society. Its core belief is that everyone belongs and has the right to reach his or her full potential. Special in Uniform focuses on the unique talents of each individual participant to help them find a job within the IDF that is a perfect fit for their skills and in helping keep Israel safe and secure.
Soldiers from Special in Uniform received a warm welcome by then Prime Minister Netanyahu at a Graduation Ceremony for Israeli Air force pilots. The graduation ceremony for the new Israeli Air force pilots is a very prestigious event in Israel, it is conducted in the presence of the cadets' families, senior government officials, the Prime Minister, as well as top air force and army leaders. One would never think to integrate disabled soldiers within this kind of occasion – a ceremony honoring IAF graduates. Now, this has become an integral part of Israel identity as a caring society. The strongest members of society are giving over unconditional love and reserves of strength to the most vulnerable among us.
Prime Minister Benjamin Netanyahu, speaking at the graduation ceremony, underscored the IDF's spirit of inclusion.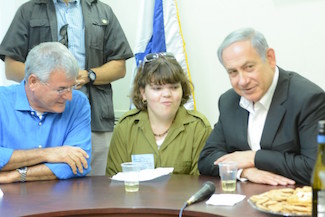 "A strong nation is one that does not leave its most vulnerable members behind," Netanyahu said. "Israel is the only nation in the world that has a strong army with the ability to include people with disabilities."
Last summer, my family and I were honored with an invitation to visit an Air Force Base to witness a unit of Special in Uniform at work, among the soldiers was Omer Lahat, a young man born with cerebral palsy whose father served as a combat pilot in the IAF and whose dream was to become a soldier.
After Richard Bernstein, being blind since birth, went on to become the first blind State Supreme Court Justice in the United States he said: "You come to realize that there's tremendous power within you." Richard's accomplishment is an inspiration to all those working to overcome a disability. Also for Omer, physical limitations did not hold him back from attending high school and graduating with honors, after which point he pursued his dream to serve in the IDF through the Special in Uniform program—Omer was the program's first-ever wheelchair-bound participant and opened the door to many others. Omer story is the story of Israel.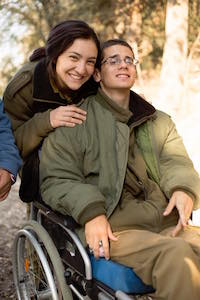 "JNF is extremely proud to have partnered with the Special in Uniform program", said Yossi Kahana, Director of the JNF Task Force on Disabilities, "the program has grown in the amount of participants and there is currently a long waiting list. Over this past year it has expanded its presence to include 15 IDF bases across Israel. From 158 soldiers at the end of 2015 we reached 300 soldiers at the end of 2016! The big vision for the program: to quickly ramp up to 1,000 enrolled participants in the next four years."
Special in Uniform is changing the fabric of Israeli society, helping to create a more caring and inclusive society in Israel by promoting inclusion of people with disabilities in the IDF at the national level.
To learn more about Specials in Uniform, click HERE.
---
Recommended for You:
---
SHOW YOUR ISRAELLOVE AND CONNECT WITH INCLUSIVE ISRAEL!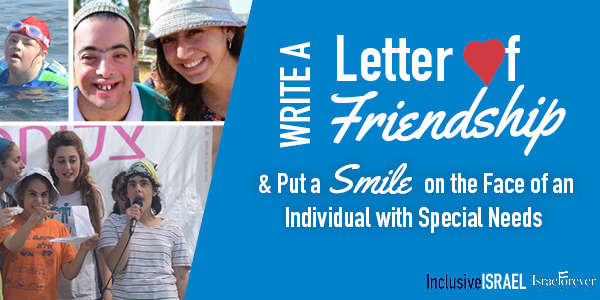 Write from the heart and find a new friend in Israel who you can exchange letters with! SEND YOUR LETTER NOW

Interested in getting your community, organization or school involved? Contact us today! 
About the Author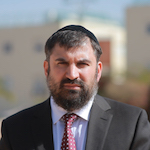 Yossi Kahana is the Director of Jewish National Fund's Task Force on Disabilities, an umbrella and coordinating body for the range of JNF partnership programs that serve people with disabilities throughout Israel. In this capacity, Mr. Kahana ensures that JNF partners and programs are effective, high quality, and fiscally strong. Prior to joining Jewish National Fund, Mr. Kahana worked for 17 years at Aleh, Israel's largest network of residential facilities for children with severe physical and cognitive disabilities. A former paramedic with Magen David Adom, Mr. Kahana works tirelessly to breathe life into the mantra "Everybody belongs!"