The Israeli-American and The Upper West Side Jews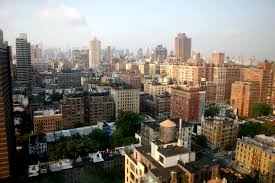 The next generation of Jewish twenty somethings is happening right now on the Upper West Side.
It is happening elsewhere, too, but as a non-native New Yorker, I am still fascinated by the city and, most especially, by the vibrant Jewish culture that seems to captivate its residents.
On my recent trip to New York, I realized that as much as I was an American, I learned that after living in Israel for a decade, I am just as much an Israeli, too. It was in this role that I had the privilege of living life on the Upper West Side and meeting the young professionals of the Upper West Side Jews.
You can imagine how my fascination piqued. I felt like a wallflower watching the next generation of Jewish-Americans own their Judaism with big Shabbat dinners, politically heated conversations about Israel, and where to eat out - like the frozen yogurt place that doesn't have a kosher certificate but does have a sign asking that people respect the area as if it were kosher.
As the outsider, I viewed conversations with the same intrigue that's normally saved for an episode of Law and Order. My takeaway from living this brief period of life with the new New York Jew on the Upper West Side: They are owning their Judaism.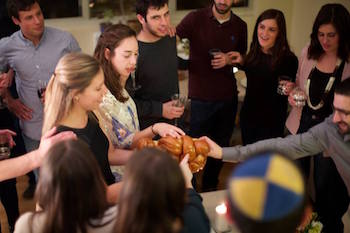 A most special experience was one Shabbat dinner, with over 30 people gathered in a small apartment somewhere between 77th and Broadway. The organizer of this event is a social worker by day, but has visited Israel many times and greeted me with Hebrew he has learned throughout his life. He welcomed me in his home and I walked through the door into this new reality I was pretty sure he was wearing Israeli diaper pants (that's what i call them, but I think their proper name has more to do with yoga).
My friend wanted us to get to the dinner early so she could pray with her friends. More people started to trickle in for dinner, but mainly to shmooze downstairs before it got too loud or head upstairs to pray together. Somehow, no matter how I try to phrase it, it feels as if I'm making this small apartment sound much bigger than it was, but it was SMALL in every way. And yet this made it all the more cozy and welcoming.
Their spirit and sound were inspiring. They stood mixed around the room asking what tune they should sing, and never missed a beat. They looked outside the window and breathed in Shabbat, letting go of the hectic and loud New York streets. My friend pointed out who is dating who, and who was there to maybe find someone new if the evening went well.There they can meet each other, wear their finest, and talk to friends that you normally just see on a snapchat, Facebook status or group text. After all, they communicate like most of us today: not really communicating in many technologically advanced ways.

After they took in Shabbat, these twenty-somethings came together to break bread. The host, in his pants and hippy mannerism, thanked everyone for coming and the organization One Table that funded the event, encouraging people to make Friday nights Shabbat again. The host wanted to remind people to be in a Shabbat State of Mind, and let Shabbat take over you. Everyone in the room, from religious to secular applauded him.
We did the traditional Kiddush and prayer over the challah, and then, like generations of Jews before them, we all rushed to the buffet style bar of food and drinks, making sure we got some of whatever looked so delicious. With the help of some selective tasting of the bar, I moved from wallflower to reporter, asking too many questions for someone who was trying to eat cholent and chicken at the same time.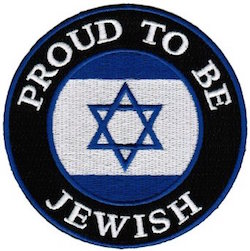 I found out some people have Israeli parents, some are Israelis, some lived in Israel, some haven't visited in over 10 years, some didn't like Israel's policies on African refugees, and some were proud of the advancement of the LGBTQ community in the Jewish Homeland. Some wore kippas, and some just in jeans. Women were dressed in every style possible, proving to me that winter weather doesn't affect "a look". The men and women were laughing, enjoying and definitely living in Shabbat Land, a place I have always found respite too.
They were confident and didn't hide being Jewish. They owned it. Their Judaism is definitely a part of who they are. It was profound and made me proud to see them holding on to their traditions while creating their futures. As an American living in Israel, I am always reminded of the diaspora Jew, and somehow I have become worried for them. I think they will not be able to be Jewish and will assimilate more and more. But standing in that moment, in that crowd, on Shabbat on the Upper West Side, my nerves were calmed (not just from the strong drink or delicious kugel). They are finding their way, and taking the journey.
I don't know what is happening all over the world, where diaspora Jews are on a Friday night, or ever. But there in this small apartment on the Upper West Side, I can tell you that group was in a Shabbat State of Mind, holding on to tradition and redefining our future.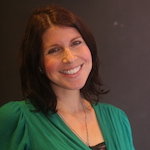 Molly Livingstone is a freelance reporter and comedian, not to mention a mother of two, living in Jerusalem. While playing all those roles, the script remains the same, showing the world the Israel that she sees everyday, from the people and places, to the culture and definitely the food.


---
You Might Like:
---
What Israel Story do You have to Tell?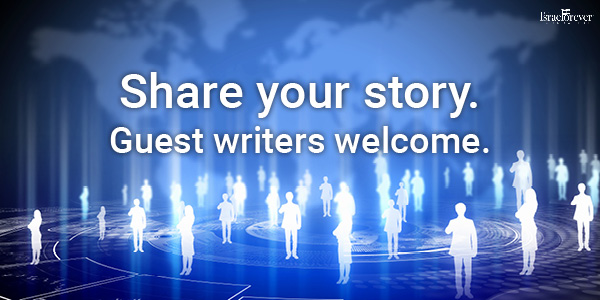 Submit your experience HERE