The Problem of Summer Holidays and Working Parents
by Alisa Coleman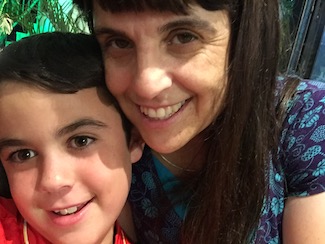 It's the end of July. We've survived the first month of the summer holidays. Now comes August. That month when panicked parents, already feeling the financial squeeze from the cost of July's day camping programs for their children, ask themselves, "what am I going to do with my kid until September 1st?"
My youngest son, is 10 years old. He's the first of my four children to go through the long, hot, two-month summer holidays with both of his parents working full-time. We feel sorry for him, and for ourselves as parents - having to juggle child-care, and find answers to the summer-holiday-problem.
If you look at the summer-holiday-problem by the numbers, most children in general education schools have 45 days of holiday. Children with disabilities have anywhere from 15-45 days of summer holidays, depending on if they're in full inclusion or in separate special education programs.
Most parents get a total of 14-18 days of holiday each year. What should parents do during the summer? And putting aside the plain logistics of coping, does anyone think about the summer from our children's point of view?
Going to school is tough in 2017, and I am not just talking about the academics. Peer pressure and teacher expectations are an ongoing challenge during the course of the year. Holidays are for fun and relaxation - offering children time to unwind and focus on other matters - for taking a break from the conscious and subconscious struggles of the school environment.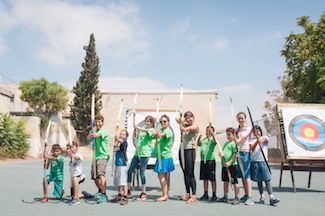 At least, that's what I think holidays should be.
Holidays are also a time for informal education, an often misunderstood need in today's world, where high grades and getting ahead, often seem more important than the personal had at camp - trying new things while running around, getting dirty, and making new friends. Camp is that different kind of educational experience maybe of even more importance to every child than the rest of the school year. As a child and later a teen, I remember waiting throughout the year until the next camp. I made so many good friends at camp. I learnt about myself - how to live and work in a group setting, first as a camper and then as a counsellor.
If I could go back to camp tomorrow, I would.
Living in Israel for the past 22 years, has shown me how much informal education is needed. Life in Israel is intense, wonderful, and crazy. Camp is an oasis of calm amongst the storm of yearly peer interactions and current events, especially here in the Middle East, and especially when it's done right, like at Camp Shutaf, my favorite local inclusion camp, right in Jerusalem.
At Shutaf, the lessons of community building are experienced every day - every child is treated as an individual with their own preferences, abilities, and moods - part of a larger environment of welcome and acceptance. The kinds of lessons we parents want to teach at home, but often struggle because of the delicate, daily balancing act of work and home life.
Choosing a camp isn't always easy. What's affordable? What's closeby? What time do they start and how long is the day are details often more important than how is every child greeted by their counselors each day, and is it an inclusive space?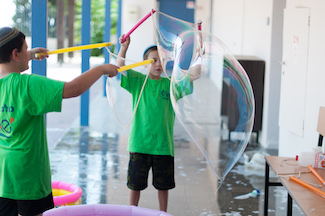 As parents, we all know that camp is often like a factory, where kids are rushed on and off buses, and from activity to activity (so that we parents are assured we're getting our money's worth!). Children are expected to take part in activities, whether they like the or not, which doesn't make them feel good about themselves.
Choice matters to children. It certainly matters to us adults. I personally do not want to be forced to do anything that I don't want to do!
Israel Forever's North American Director, Heidi Daroff, visited Shutaf with her husband and 2 children last summer. She reminded me recently how her daughter Arianna enjoyed their family's visit - how Arianna joined a Shutaf craft session in an organic and easy fashion. "She sat down at the table, helped herself to some supplies, and was welcomed by the other kids around the table, who shared their materials and acted as if she'd been there the whole time."
Heidi noted, "It was beautiful to witness and really drove home the Shutaf approach."
At most day camps locally, (day camps are the norm here in Israel), they are staffed by young, high school-aged counsellors, who lack the proper tools to deal holistically and maturely with the kids in their care.
When informal education is taken seriously and professionally, children's needs are supported, and the environment - whether it's dedicated to sports, or arts, or whatever - can be relaxed and inclusive, as it is at Shutaf, where the family-style environment and fun, low-tech camp activities work for all children, with and without disabilities.
What else makes informal education work?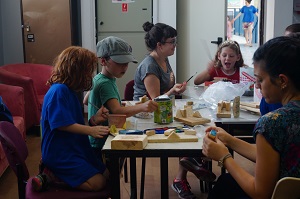 Professional program planning and staff training ensure an excellent program and an environment based on mutual acceptance and inclusion. Counsellors who are trained and mentored to listen to the needs of all the kids in their charge, whether it's a good day or a bad day, or simply a day when they arrive at camp not in the mood. When counsellors learn patience and do their best to accommodate, without labelling based on diagnosis or perceived levels of functioning, special things happen. All the kids are looked at as individuals with their own feelings and needs. When you focus on kids having fun with an emphasis on peer- communication , everyone wins.
Honestly, I wish I could spend my vacation, doing fun activities in a chilled fun environment where people care about me.
Wouldn't you?
I'm sure all of our kids would.
Support Shutaf Inclusion Programs with your tax-deductible gift today. More than 140 children, teens and young adults, with and without disabilities will enjoy 3-full weeks of inclusive day camping, August 6-24th, in Jerusalem. At Shutaf, tuition is always affordable and no child is ever turned away because of financial need. Your gift makes a difference - each and every day at Shutaf in Jerusalem. Shutaf is a place of complete acceptance and inclusion for all kids of all abilities; religious and secular, rich and poor, from all cultural backgrounds.
Founded in 2007, Shutaf Inclusion Programs in Jerusalem offers year-round activities for children, teens and young people, with and without disabilities: Day camps during Hannukah, Pesach and August vacations; Young Leadership Program for teens and young adults; Interactive Inclusion-Accelerator Workshops; Parent and family gatherings.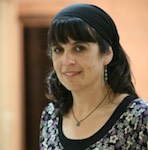 Alisa Fox Coleman recently became the Director of Organizational Advocacy at Shutaf Inclusion Programs, Jerusalem. Alisa started her career path as a Speech Therapist and has inclusion in her veins . She has spent the past few years working and fighting for a better society for all.


---
Recommended for You:
---
SHOW YOUR ISRAELLOVE AND CONNECT WITH INCLUSIVE ISRAEL!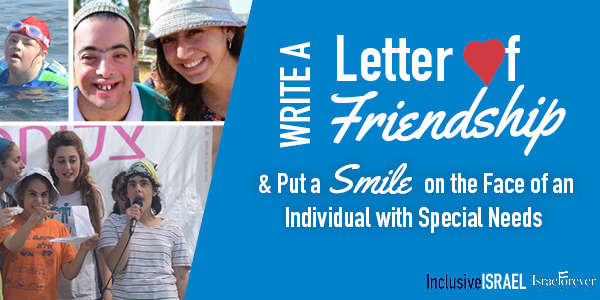 Write from the heart and find a new friend in Israel who you can exchange letters with! SEND YOUR LETTER NOW

Interested in getting your community, organization or school involved? Contact us today!