The True Meaning of Hanukkah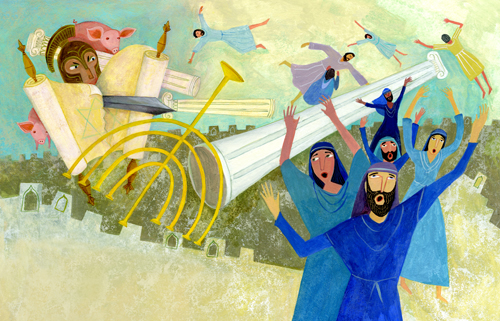 When my brother was in kindergarten, where he was the only Jewish student, a parent organizing enrichment activities asked my mother to tell the class the story of Hanukkah.

My mother obligingly brought in a picture book and began to read about foreign conquerors who were not letting Jews in ancient Israel worship freely, even defiling their temple, until a scrappy group led by the Maccabee family overthrew one of the most powerful armies in the world and won their liberty.
The woman was horrified.
The Hanukkah story, she interrupted, was not about war. It was about the miracle of an oil lamp that burned for eight days without replenishing. She urged my mother to close the book. My mother refused.

The woman wasn't alone.

Many Americans, Jews as well as Christians, think that the legend of the long-lasting oil is the root of Hanukkah's commemoration.
The original miracle of Hanukkah was that a committed band of people led a successful uprising against a much larger force, paving the way for Jewish independence and perhaps keeping Judaism itself from disappearing. It's an amazing story, resonant with America's own founding, that offers powerful lessons about standing up for one's convictions and challenging those in power.
Read the Full Article HERE
---
Keep up with every new Israel Forever story on Facebook and Twitter and encourage your friends and family to join in the conversation!
Read the full article here.