Wear your support for Israel when others have turned their back
By Brian Horowitz
After yet another anti-Israel UN resolution, One948 and Artists for Israel launch UNacceptable apparel

A few months ago, my One948 business partner Matt and I were graciously invited to attend the Zionist Organization of America's annual Gala dinner. Having recently completed our successful Kickstarter crowdfunding campaign, we did not hesitate to accept. ZOA even gave us the opportunity to vend our Israel and Jewish themed apparel at the event. We stuffed a few suitcases with inventory, hopped in a Honda C-RV, and road-tripped 8 hours from Cleveland to New York.
As passionate and energetic Zionists swarmed the venue; Matt and I knew we had made a great decision to come. Throughout the evening, hundreds of attendees stopped by our table to admire our product. One attendee, Melissa Jane Kronfeld (she goes by the nickname MJ), was particularly impressed by our endeavor. Her face lit up as she gazed at our unique apparel. She bought one of our 'Party Like it's 1948' tees, gave us her card, and asked us to contact her when we got back to Cleveland.
Upon our return, we re-connected with MJ; she was chock-full of ideas. She mentioned an organization called Artists 4 Israel (A4I) and its founder, Craig Dershowitz, whom she knows well. MJ thought it would be mutually beneficial for One948 and A4I to link up.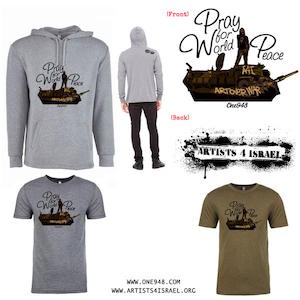 Fast forward a few weeks and we were on a productive and exciting call with Craig discussing the variety of ways we could collaborate; I distinctly recall feeling his passion for Israel through the phone. Over the next few weeks, we traded emails with the focus on co-branding and putting some of A4I's popular images on our apparel.

Then on December 23rd, the United Nations Security Council voted unanimously in favor of yet another anti-Israel Resolution. The only abstention came from the United States. While their have been many UN resolutions against Israel over the years, this one in particular was UNprecedented and It was UNacceptable.
According to the United Nations website "The Security Council reaffirmed this afternoon that Israel's establishment of settlements in Palestinian territory occupied since 1967, including East Jerusalem, had no legal validity, constituting a flagrant violation under international law and a major obstacle to the vision of two States living side-by-side in peace and security, within internationally recognized borders."
A few days later, Craig had the exciting idea to tie this UN Resolution into our collaboration. In doing so we could show the UN and their supporters that we find their anti-Israel resolutions UNacceptable. We took two images from A4I's 'Art Over War' mission and plastered them on some comfy tees and sweatshirts.
Craig described A4I's 'Art Over War' mission:
"Art Over War is a battle cry. Artists 4 Israel took some of the worlds most famous graffiti artists to the border of Syria to stare down the rockets from their civil war. They painted a hospital which Syrian troops had turned into a spy base and which had since been destroyed as well as former Syrian army barracks. Our productions covered over years of hateful graffiti written by Syrian troops against Jewish Israelis and replaced them with messages of reconciliation and peace. In Jerusalem and Tel Aviv, we hosted giant parties for children, bringing together break dancers, DJ's playing lively music, and of course, visual arts."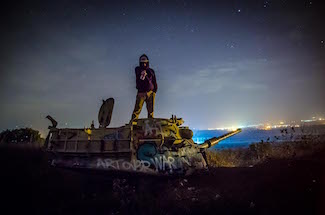 We put together this video to spread our campaign message and to raise awareness about UN Resolution 2334. 50% of the proceeds from this campaign will go towards A4I's next mission.
Along with Craig at Artists for Israel, Matt and I understand what the 'older' generations fear amongst Jewish millennials and youth: they fear that our Jewish identity is not as strong as it was for them. We are confident though that there are countless people, young and old who support Israel in her quest to live in peace.
We hope that the Israel Forever Foundation community will join us in strengthening the ties of Israel supporters worldwide. No matter your personal background by wearing One948 you are joining a tribe of people who are advocates for life, humanity, and peace.
Remember Virtual Citizens of Israel™ receive a 10% discount on their purchase from the One948 x Artists 4 Israel 'Art Over War' apparel collection.
Please also join us in sending Letters of Friendship™ to victims of terror living in Israel. Your Letter of Friendship will bring a smile to their face and let them know that they are not alone. Show your support for Israel at a time when too many others have turned their back.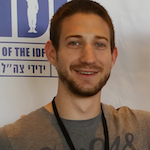 Brian Horowitz is the Co-Founder of One948. He is a Jewish Zionist millennial. Brian graduated from The Ohio State University with a Bachelor's in Business in 2011.




---
Now it's Your Chance to Make a Difference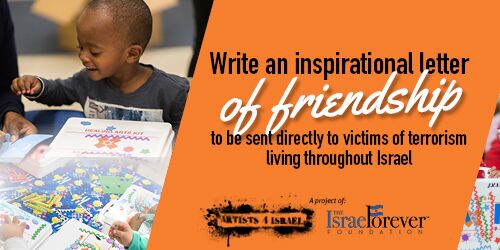 Write a Letter to a Victim of Terror Today!
---
Recommended:
---
Am Yisrael: Fostering Jewish Unity and Pride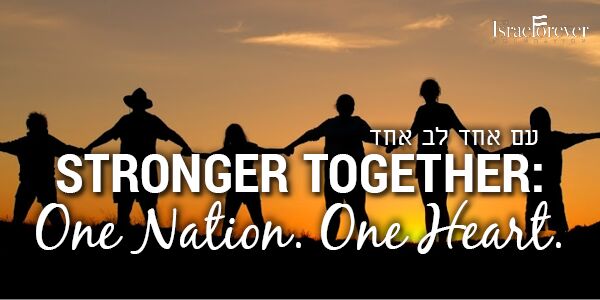 How are you making a difference for Jewish Unity?