Yerushalayim Micrography
Micrography is a fun way for you to combine words and images that remind you of Jerusalem, our holy city and capital of our nation, center of our hearts.

This project can be done with people of all ages. For younger children, teachers/parents will need to make some minor adjustments.
SUPPLIES NEEDED
---
Thick, acid free paper of any kind, or a canvas of any size
Alef Bet stencils (optional)
Pencil
Sketch paper
Ultra fine point paint pen (color of your choice)
Paint (any type and color of your choice)
Disposable plate for paint
Scissors
Jerusalem-related text of your choice
STEPS:
---
Place your canvas/final paper horizontally and sponge paint the background with whatever color(s) you choose.
The sample has one solid color, but you can have as many colors as you want.
While your sponge painting dries, select the Jerusalem-related text you want to use.
For example:
Yerushalayim Shel Zahav
Five Poems For Jerusalem
Jerusalem: Heart of our Heart, Soul of our Soul

Pick something that speaks to your heart, that you will always remember, that will evoke for your your connection to our holy center. You could also simply write your own thoughts and feelings about Yerushalayim.
Begin writing your Hebrew letters spelling out Yerushalayim ירושלים across your SKETCH paper.
a. You may draw your letters freehand or use stencils (see below) as a guide if you'd like.
b. If you choose to use a stencil - use your scissors to cut out each individual letter which will become your own handmade stencil to use on top your sponge painting.
Lay your letters in place across the now-dry sponge painted paper/canvas. Sketch lightly the outline of the letters which will serve as the border for the text you will be writing inside of it.
Now it is time to focus on the text you would like to write out. Begin at the first Yud and write in ULTRA FINE POINT PERMANENT PEN the text in the language of your choice, INSIDE the lines of each letter.
Note that the sample Yerushalayim painting above (artist unknown) has Hebrew words written inside each of the letters. Some are legible and in the proper direction, and others are not. You have the freedom to choose to write in Hebrew (block or script), English, or any language and to be as creative as you would like with how you add your wording.
Sign and date your work, and email an image of your creation to Stefie@IsraelForever.org so we can proudly share your art with our global community of Virtual Citizens of Israel.
Sample Stencils: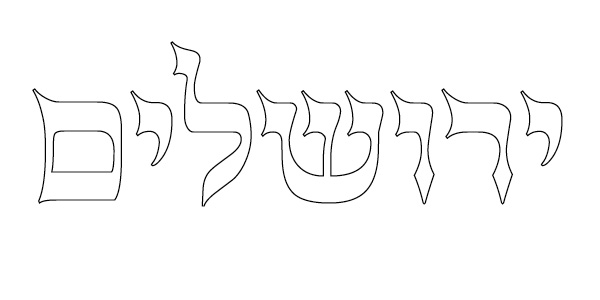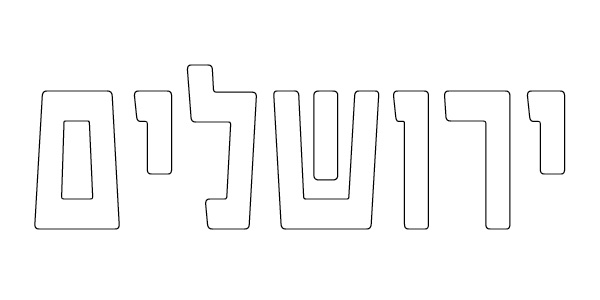 Have your artwork featured in our online Israel in My Art gallery! Sign your artwork with your first name and last initial and email it to Stefie@IsraelForever.org

Painting as a part of a class or art group? Send us your selfies and group pics for a shoutout throughout our global Jewish community who loves sharing the Israel connection with their fellow Virtual Citizens of Israel around the world. Follow us social media and you can either post your pic online and tag us in your post or email it directly to Stefie@IsraelForever.org.

Help your students find unique ways you to incorporate the Israeli flag and the flag of the country in which you reside into your drawings as well, so that the world can see the vast number of nationalities of our IFF artists!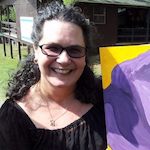 Stefanie Jo Heideman, founder of Art Escapades, is an art educator who believes that art is not supposed to be competitive, but rather a peaceful, relaxing experience for one to engage in and enjoy. As the Arts and Education Specialist for Israel Forever, Stefie is able to weave her love of Israel into her projects and lesson plans for individuals of all ages and stages of life.
---
Recommended for you:


---
FEEL ISRAEL, THROUGH ART.