Israel Forever Sits Down with Jewish Musician Sam Glaser
Listen to Jewish Musician, Sam Glaser, as he connects The Israel Forever Community to their love of Israel through his inspiring music. You'll love Sam's acapella renditions of 'Yisrael Shelanu' and 'Dancing in Jerusalem'.
Bring Sam to your community! Learn more at SamGlaser.com
---
Enjoy more songs by Sam Glaser that Celebrate Jewish Pride!
---
How are You Celebrating Israel?

About the Author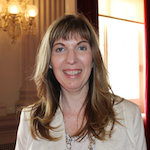 Heidi Krizer Daroff enjoys sharing her passion for Israel with others as North America Director of The Israel Forever Foundation. While her passport indicates that she does not reside in Israel, her heart definitely does. Through her storytelling, Heidi invites you to grow your involvement and add more Israel Forever into your daily life.