"Once in Eden", from the album "In Pursuit of Dreams"
By Edward Zeltser
The High Holidays inspired Edward Zeltser to imagine the drama that unfolded in the Garden of Eden almost six thousand years ago.

What if Adam and Eve made a different choice?

The human progress we know today may not have been. Perhaps it was all a part of the Original Plan…

Watch, listen, and judge for yourself.

Music and photography by Edward Zeltser.
Musical arrangement by Dmitry Gershenzon.
---
Recommended:
---
How are You Celebrating Israel?

Come explore the many ways you can Celebrate Israel every day!
About the Author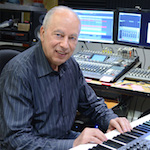 Edward Zeltser was born in Chernivtsi, Ukraine. He is a classically trained piano and clarinet from the age of seven years. Later in life, he was introduced to jazz, and played saxophone in a big bands and small groups. He studied photography at Moscow University of Art. And worked in Ukraine at various newspapers and magazines as a photojournalist. After moving to the USA, Edward continued his photography career in Atlanta, Georgia. In 2012 he began composing music, and in 2014 he recorded his first album "Far Away" with romantic piano music.