UNITED STATES TOUR:
BRING THE EXODUS EXHIBITION & MEMORIAL PROJECT TO YOUR COMMUNITY
---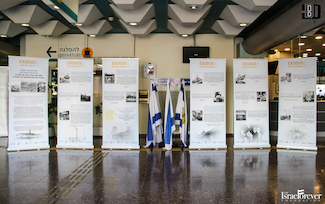 Communities throughout the United States of America can commemorate 75 years since the fateful of the journey made by thousands of Holocaust survivors desperate to reach the Jewish Homeland by bringing Israel Forever's dynamic Journey to Statehood: Exodus Exhibition to your community for an engaging educational experience.

This exhibition made its Israeli debut at the unveiling of the Exodus Memorial in the Haifa Port during the summer of 2017 and will make it's US debut this fall, keeping the memory alive as it travels from community to community.
The Exodus Exhibition package is comprised of 6 beautiful roll-up banners filled with images, educational information, and testimonial quotes related to this time period in Jewish and Israeli history. The panels are accompanied by an informational booklet that is easily downloadable for distribution to your members and groups. Discussion questions and other engagement resources are also available.
The Exhibition banners will be in your possession for a predetermined amount of time and then shipped to the next destination on the tour. We are offering this exciting opportunity for $360.
In recognition of your effort to advance the memory of the Exodus as a step toward statehood that all can learn from, we will feature your exhibit on our website and share it on social media with our global Jewish community.
Please fill out the form below to start planning your community's exhibition today! An IFF team member is available to assist you to ensure a meaningful and successful experience for all who participate.
To learn more about The Exodus 1947, click HERE.