Green Shakshuka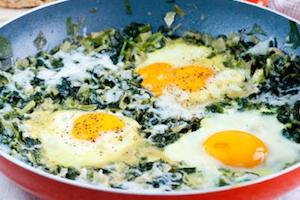 This version of shakshuka can be found in Israeli cafes and restaurants for those who want a change of pace from regular shakshuka. The color is great, as is the taste - especially with fresh bread on the side.
Ingredients
● 3-4 Tbs. olive oil
●1 onion, diced
●3-4 cloves garlic, minced
●1-2 spring onions, sliced (optional)
●1 bunch Swiss chard, roughly chopped (leaves and stalks separated)
●1 bunch spinach leaves, roughly chopped
●2 Tbs. white wine
●½ cup heavy cream
●Salt & pepper
●Nutmeg
●4-6 eggs
●Feta cheese, crumbled (optional)
Directions
Heat olive oil in a large skillet and sauté the onion, garlic, spring onions and Swiss chard stalks until the onions are golden brown.
Add the spinach and Swiss chard leaves. Cook for a few minutes, stirring, until the leaves lose half of their volume.
Stir in the wine and cream and season with salt, pepper and a pinch of nutmeg.
Bring to a boil and lower the heat. Cook for 20 minutes on low heat.
Break an egg into a small dish and gently slide into the pan. Repeat with remaining eggs, evenly spacing them within the pan.
Cover and cook until the egg whites are set but the yolks are still soft (or to your preference).
Remove the lid, sprinkle with cheese, if using and serve with plenty of fresh bread.
Serves 4 to 6.
A lifelong food lover, Orly Ziv worked for many years as a clinical nutritionist before launching her company Cook in Israel in 2009, where she offers culinary tours around Israel and intimate cooking classes in her home. Orly believes that one of the best ways to learn about a place and people is through the food they eat. Her background in nutrition combined with her strong passion for cooking and baking leaves readers with delicious Mediterranean meals that are healthy, flavorful and easy to prepare.
BeTeavon and ENJOY! 
---
More recipes
---
Bring Tastes of Israel into your Kitchen!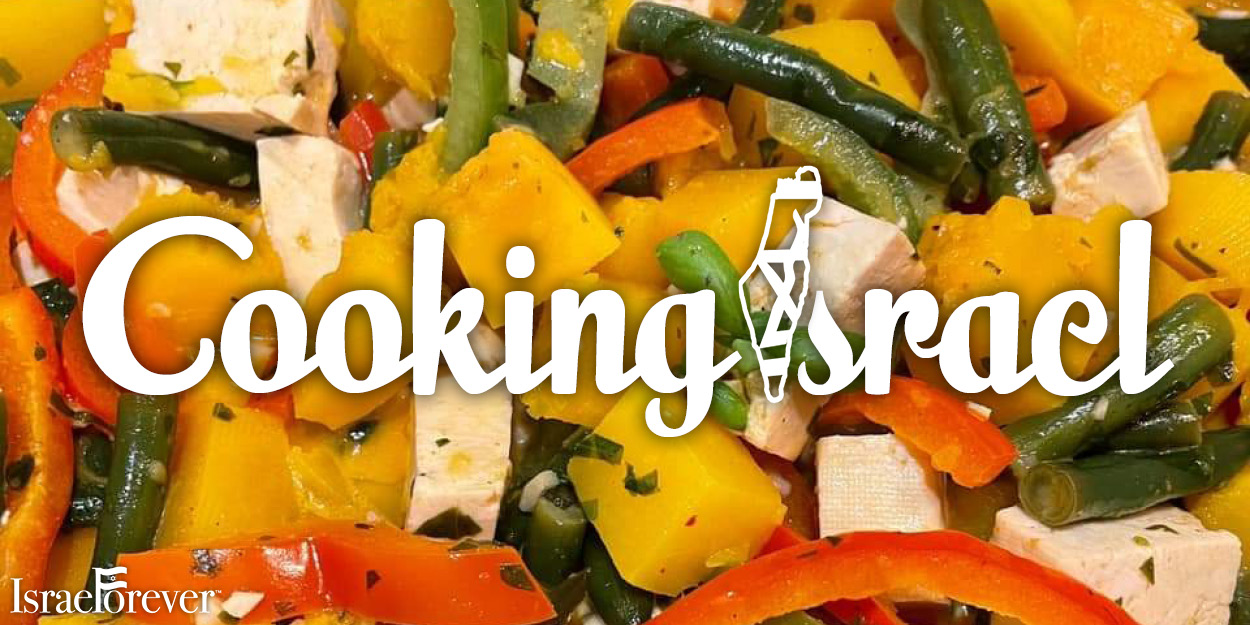 Check out more Cooking Israel Recipes full of aromas and flavors to remind you of Israel today and everyday!

Click HERE to download our FREE Cooking Israel Cookbook.