Israeli Cheese Blintzes
For blintzes, cheese is the most popular filling, and a combination of cheeses is even better!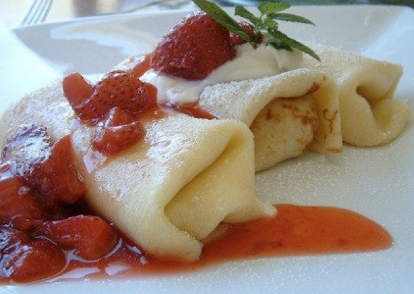 Ingredients
● 3 eggs
● 1 ¼ cups milk (or more, as needed)
● ¾ cup flour
● ¼ tsp. salt
● 3 tbs. butter
● ½ cup raisins
● 1-3 tbs. melted margarine (for greasing pan)
For Filling
● 18 oz. famer's cheese
● 3 tbs. cream cheese at room temperature
● 5 tbs. ricotta cheese
● 2 egg yolks
● 4-6 cups sugar
● Grated rind from 2 lemons
● 1 tsp. vanilla extract
● Canned strawberry/cherry filling
● Powdered sugar to sprinkle on top
Directions
Place eggs, ¼ cup of milk, flour, and salt in food processor and blend by turning processor on and off. While processor is on, pour 1 cup of milk gradually through spout and blend for 30 seconds. Break up any lumps. Cover and place for about an hour in refrigerator.
In a small pot melt butter on low flame and put aside to cool.
Mix dough batter well. Gradually pour butter into dough mixture (which should have texture like heavy cream. If it is too thick, pour more milk in gradually, one teaspoon at a time, while whipping with whisk.
Heat an 8-inch Teflon pan on medium-high flame and brush on a bit of melted margarine. Using a ladle or small cup, pour out about ¼ of a cup of mixture. Shake pan rapidly with circular motion so that batter spreads in thin even layer over pan.
Fry on medium-high flame for a minute until underside is dark brown.
Gently loosen sides of crepe with a metal spatula and slide crepe onto a large plate with top side of crepe facing up. If batter has stuck to pan, butter pan again.
Heat pan for several seconds and continue to fry remaining batter while occasionally mixing. Keep crepes hot by covering plate with a kitchen towel.
In medium-size bowl (or in food processor) mix all filling ingredients with wooden spoon until smooth.
Place 2-3 tbs. of filling in middle of crepe. Fold over all four sides, then roll crepe to seal in filling.
Heat pan, brush on melted margarine, and place crepe with seam facing down.
Fry on low flame for 3-5 minutes on each side.
Sprinkle on powdered sugar and serve warm with strawberry/cherry sauce on top.
BeTeavon and ENJOY!
---
More Recipes:
---
Bring Tastes of Israel into your Kitchen!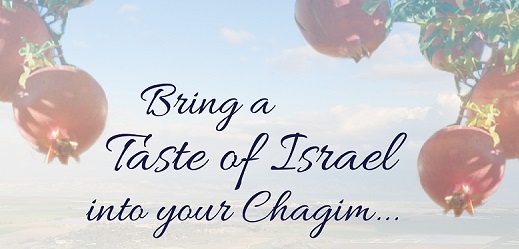 Let the aromas and flavors remind you of Israel, far away, but forever in your heart and in your life!

Click HERE to download our FREE Cooking Israel Cookbook.