Moroccan Orange Salad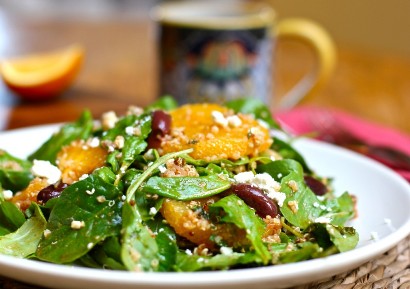 Ingredients
● 5 medium (3 cups/720 ml) navel oranges or tangerines, peeled and segmented
● 2 medium red onions, thinly sliced (1½ cups/360 ml)
● 1 head romaine or butter lettuce or 1 bunch spinach, torn into bite-size pieces
● About 5 cups of greens, such as 2 bunches watercress, 2 bunches radicchio, or 6 ounces (170 grams) baby arugula, torn into bite-size pieces
● Kalamata olives

Dressing

● ¼ cup (60 ml) olive oil
● ¼ cup (60 ml) vegetable oil
● ¼ cup (60 ml) fresh orange juice
● 2 tablespoons (30 ml) fresh lemon juice or red wine vinegar
● 2 to 3 tablespoons (30 to 45 ml) honey or sugar or ½ teaspoon (2.5 ml) Dijon mustard
● 1 teaspoon (5 ml) grated orange zest
● 1 teaspoon (5 ml) salt
● 1 tablespoon (15 ml) fresh or ½ teaspoon (2.5 ml) dried rosemary, basil, cilantro, mint, or thyme or ½ to 1 teaspoon (2.5 to 5 ml) ground cumin
● ¼ cup (60 ml) chopped fresh mint or cilantro (optional)

Serves 6 to 8
Directions
Divide the lettuce and watercress between serving plates or place on large platter.
Toss together the oranges and onions and place on greens.
Combine all the dressing ingredients and drizzle over the salad.
Variation

● Add 2 peeled and sliced avocados
● 2 cups sliced cooked beets
● 1½ cups chopped pitted dates
● 1 sliced large bulb fennel
● 1 pound julien
BeTeavon and ENJOY!
---
More Recipes:
---
Bring Tastes of Israel into your Kitchen!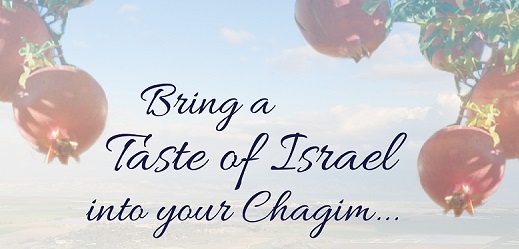 Let the aromas and flavors remind you of Israel, far away, but forever in your heart and in your life!

Click HERE to download our FREE Cooking Israel Cookbook.