Israel75: Together as One
ISRAEL 75 - GLOBAL LAUNCH OF ISRAEL FOREVER DECLARATION DAY
Honoring the miracle and rebirth of the State of Israel
On the anniversary of the declaration of Israel's independence 75 years ago, Israel Forever launched an inspirational virtual global celebration to honor the miracle of the rebirth of Israel in our ancestral homeland, the nation-state of the Jewish people.
Welcoming the diplomatic community of ambassadors and activists, Declaration Day was hosted by the legendary David Citadel Hotel for a commemoration and celebration of the significance of Israel's independence to the world.
---
---
BE A PART OF THE CELEBRATION

Israel75: Together As One is a vitual celebration of Jewish unity and pride in Israel, our homeland for the duration of the 75th year of Israel's independence.

We invite everyone to be a part of sharing in the miracle! Submit a video of your personal message of celebration, a clip from your Israel75 event, a personal statement of declaration of pride, a personal performance or your favorite Israeli song, dance, recipe, or creative expression. Share your message of ZionProud love and be featured as a proud Virtual Citizen of Israel!

Add #DeclarationDay #TogetherAsOne #Israel75 #IsraelForever hashtags in your reel, song, post or video statement of affirmation to be included among the thousands around the world who are sharing their love and pride in the meaning of Israel's independence to the world.
---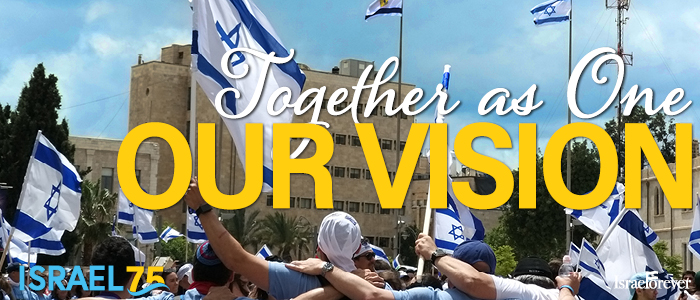 ---
Yom HaAtzmaut is our global celebration of Israel's independence on 4 Iyar on the Jewish calendar. Declaration Day is the global recognition of Israel's rights as a member of the family of nations on May 15. But we believe that celebrating our nation, our state, our history, heritage and homeland should be a part of Jewish life every day, everywhere!