Social Media Mingle: Voices For Israel Engagement
Join us for a dynamic and interactive program with special guest Heidi Krizer Daroff as we harness the personality and passion of the social media activists of Israel to help people celebrate and strengthen their personal connection to Israel.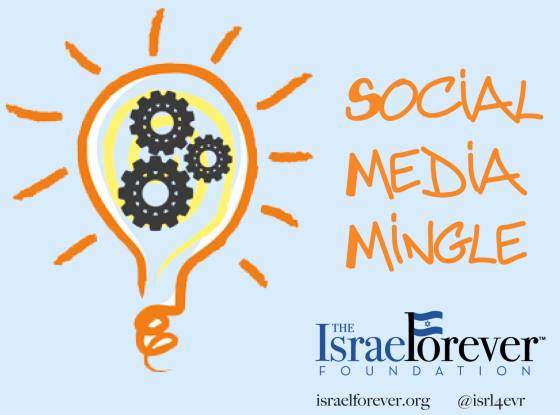 Thursday, June 13 2013
7:00 P.M.-9:00 P.M.

PICO
37 Pierre Koening Street,
4th Floor (The AACI Building)
Jerusalem, Israel
02 569 5166
Live broadcast will be available

Wine and Cheese
will be served - Mehadrin Kosher
Panel discussion with Heidi Krizer Daroff, Laura Ben David, Sarah Tuttle Singer, Michael Dickson and Benji Lovitt
They will share their ideas regarding the next step for social media in terms of engaging Diaspora Jews
Following the panel, attendees will be invited to breakout sessions to develop a Virtual Israel Engagement initiative that we will launch on the world!
If you choose to tweet about our mingle, or want to ask questions,
please use our official mingle hashtag: #Mingle4Israel
Follow us LIVE through our own Twitter handle: @Isrl4evr
Sign up, login and ask questions on The Israel Forever Foundation Forum
For questions relating to this event, email Lucy, lucy@israelforever.org
R.S.V.P Below!
The 18NIS ($5) optional donation goes toward the implementation of your Israel Engagement programs!
Everyone who donates will receive recognition for their involvement.