So many sufganiyot, only 8 days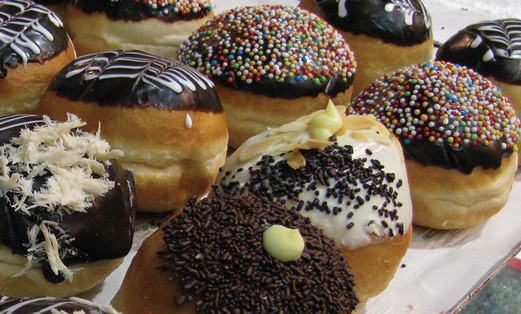 Scrumptious sufganiyot shopping: this was the task at hand in order to prepare for the annual In Jerusalem sufganiya competition. We scouted out eight of the city's top bakeries to bring you the best of this Hanukka season's sufganiyot selection.
The word sufganiya comes from the Hebrew for sponge, sfog. Its dough is meant to absorb the oil of a deep-fryer, much like a sponge takes in water. The end result of the frying process is a squishy texture, reminiscent of the sea creature from which it draws its name. Fortunately for us, these "sponges" are coated with yummy powdered sugar, delectable icing, chocolate, sprinkles and a wide variety of other tasty toppings. And let's not forget the most important part of any sufganiya – the filling! These can range from the traditional strawberry jam and caramel to more daring and exotic flavors such as champagne, halva and Ferrero Rocher.
We reviewed sufganiyot from eight bakeries in Jerusalem. After much licking of lips and fingers, plus the inevitable clutching of stomachs toward the end of the evening, our tasting team is confident that we have thoroughly examined the widest variety of sufganiyot available.
Read the full article here.