Walking Across Israel, In Florida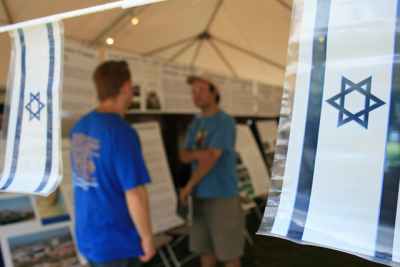 Copyright © Alligator File
By Abby Newman, Hillel News
January 9, 2014
At a big campus like the University of Florida, it is very easy to just mindlessly walk for miles without even knowing it. Upon arriving at UF, I didn't know where many things were, and I managed to get very acclimated with the campus through my walking.
When I learned that Hillel was having a program entitled "Walk Across Israel," and that they were providing pedometers donated by a non-profit organization, I was immediately hooked.
The 296 mile-walk is designed to connect students to Israel, help us visualize the size of the Jewish state, and promote the Jewish value of Shomer HaGoof, guarding of the body. Eilat and Haifa were selected as the endpoints because Eilat is the southernmost point of Israel and, although Haifa is not the most northern point, the University of Florida has a close relationship to the University of Haifa.
I now can keep track of how much I walk a day as well as feel a connection to Israel by doing so. I started the challenge with no expectations as well as no concept of how much walking I do on a regular basis. Participants were given the semester to accomplish the challenge with landmarks along the way.
For example, an upcoming event is a free falafel dinner after reaching "Jerusalem" by walking 193 miles. Tasks like these keep Israel on my mind, and who doesn't love free food?
Through this journey, I have found a love for walking. I consciously choose to walk instead of taking the bus to various places on campus, which allows me to walk an extra 20 minutes (roughly .8 miles) each day. This challenge encourages exercise without working up a sweat or taking time out of my day to do so. To my surprise, I have walked 83 miles in 3 weeks!
I didn't realize how attainable it is to walk 296 miles in a semester. I am really looking forward to continuing this journey and seeing how far I'll actually walk in a semester. Maybe I'll make it beyond Haifa and go to Nahariya, the northern most coastal city of Israel.
Click here to be redirected to the original article.
---
Stories Of Interest