The One-Armed Warrior: An Israeli Soldier's Tale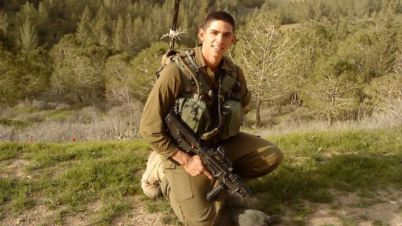 When a suicide bomb ripped through a pizzeria in downtown Jerusalem in 2001, killing 15 and wounding 130 more, 13-year-old Izzy Ezagui, who was visiting from America, found his calling.
Five years later, the New York-born Ezagui became a dual citizen and joined Israel's Defense Forces – and not even the loss of his left arm in a mortar attack has kept him from the solemn commitment he made as a boy.
In 2010, Ezagui became the first soldier in Israel's history to rejoin the army in a military role after sustaining such an injury in combat.
Ezagui, who currently serves in Israel's Special Forces Paratrooper Unit and who received an award for his service from Israeli President Shimon Peres, doesn't consider himself special.
"I'm just an ordinary guy," Ezagui said in an interview. "I had the will to do this one thing and I succeeded because I was passionate about it. I wanted to prove to myself that I was still worth something. If I can do it, so can anyone else."

While the unassuming 24-year-old recounts his personal story of struggle and determination, it's clear his tale is far from ordinary.
Ezagui, a religious Jew who was born in Brooklyn and raised in Miami, had traveled to Israel with family in the summer of 2001 to celebrate his Bar Mitzvah. On Aug. 9, 2001, Ezagui and his parents dropped their clothes off at a Laundromat adjacent to a Sbarro pizzeria at the corner of King George Street and Jaffa Road in Jerusalem – one of Israel's busiest intersections.
Twenty minutes after Ezagui left the area, Hamas member Izz al-Din Shuheil al-Masri detonated a belt laden with explosives, including nails, nuts and bolts, inside the Sbarro restaurant, killing 13 Israelis – seven of whom were children – a pregnant American and a Brazilian national. Hamas claimed the attack was in retaliation for Israel's assassination days earlier of its two leading commanders, as well as six Palestinian civilians, including two children.
"It left a mark on me," Ezagui said of the Jerusalem bombing. "I remember thinking, 'This is awful. I want to be able to do something to stop things like this from happening.'"
Read the full article here.