Appreciation to Indians for Israel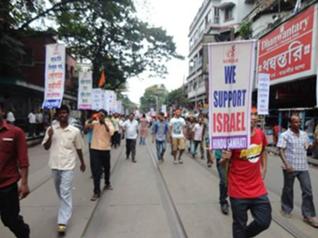 The biggest Pro-Israel, anti-terror rally in recent years, anywhere in the world, happened in Kolkata, West Bengal, India. 20,000 voices roared, not just for Israel but in support of the values that we all hold dear for humanity, mutual respect, co-existence and gender equality. A billion people in India, who always supported Israel at heart, is active in the social media, so far lacked a voice and the courage to show their support on the streets. This rally gave voice to those billion people.
This is a sign not only of true friendship, but of understanding and mutual interests that should benefit to both nations. I send blessing and appreciation back to our dear friends in the east.
This rally witnessed the biggest ever show of solidarity in support of Israel anywhere in the world.
Read more about the importance of this solidarity rally HERE
---
Read the full article here.