Sweet Smell of Success Wafts from Israel's "Basil Tree"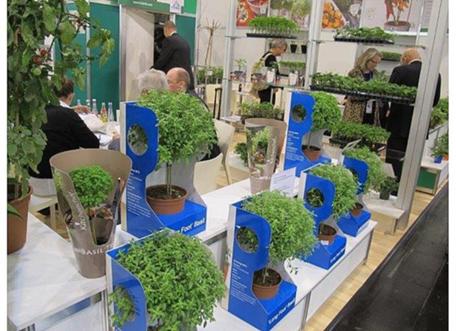 Copyright © IsraelAgri.com
A unique Israeli-developed plant has won a top prize in the world's biggest horticulture event. The "Basil Tree" isn't just pretty to look at, according to Hishtil, the Israeli "inventor" of the tree, but practical, too: The bonsai-style mini-tree grows basil perennially, allowing people with herb gardens to have an ongoing supply of the herb, instead of having to replant a new basil seedling each time they use up their supply.
Basil is popular in Italian cooking, but growing it can be a hassle, requiring sprouting, transferring into the ground from a seed flowerpot, and regular care to prevent insect infestation. Hishtil sells the Basil Tree as a full-grown plant (30 cm tall). It's resistant to insects, so no pesticides are needed, and can be kept indoors in the flowerpot it comes in, Hishtil said.
The mini-tree won the prize for best new horticultural development at the just-completed IPM Horticulture Show in Essen, Germany, beating out dozens of competitors for the prize. Over 1,500 companies showed off their wares to around 57,000 trade visitors from over 100 countries at IPM, which was attended by representatives of some of the largest home and garden stores around the world. This is the first time an Israeli-developed plant has won a prize at the show, which has been held annually for the past 32 years.
Hishtil, Israel's largest horticulture company and nursery, was started over three decades ago by Yechezkel Dagan, a refugee from the Holocaust who was born and spent his early years in the German city of Essen, where the IPM event was held. Dagan, 78, fled Essen with his family when he was a small child, moving to Israel, where he eventually established Hishtil.
Read the full article here.