Potomac Restaurant Owner Received Death Threat Over Israeli Flag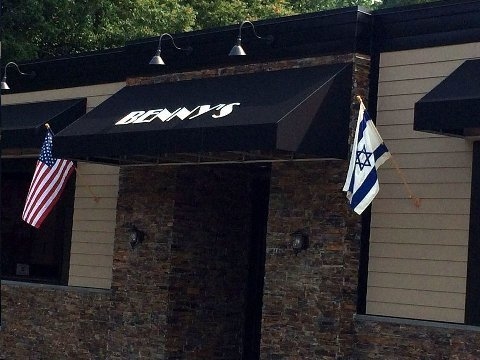 Benny Fischer said he put up an Israeli flag on his Potomac restaurant Wednesday to show support for the country currently engaged in a war with Hamas.
The flag was hung opposite an American flag near the front door at Benny's Bar & Grill on Tuckerman Lane. The next morning, at 2:41 a.m., Fischer received a call on his cellphone from a blocked number. He said the caller told him he or she was planning to steal the flag and then went into an anti-Semitic rant.
Fischer said he couldn't tell if the caller was a man or woman. "They were trying to disguise their voice, I could tell that," Fischer said.
Fischer said he hung up on the initial call, but received another from a blocked number at 2:45 a.m. When he answered that one, the caller continued the rant, saying things like, "You f—king Jew, I'm going to kill you and all the other Jews," according to Fischer.
"I said to them, 'You're just a coward like all the other Jew-haters in the world,' " Fischer said.
Fischer reported the incident to Montgomery County Police. Police spokeswoman Rebecca Innocenti confirmed that First District police officers are investigating the calls as a hate incident.
"The thing is, I grew up here; there's more anti-Semitism in this area than people want to know about," Fischer said. "This is not the first time I've been called [anti-Semitic names]."
In May, two 16-year-old boys were arrested after allegedly drawing anti-Semitic graffiti on a synagogue in Potomac and three vehicles. At the time, police and County Executive Isiah Leggett described the acts as hate-based and said similar acts wouldn't be tolerated in the county. The two boys were not identified because they were charged as juveniles.
Fischer said he's undaunted by the threats and plans to host a fundraiser next month at his restaurant for Magen David Adom, an Israeli organization similar to the American Red Cross.
"It's always been in my nature to be proud of who I am," Fischer said. "Putting up a flag is not a big deal, but a lot of people are afraid of doing just that. They're afraid of being singled out and targeted."
---
Read the full article here.