Bravery: Lone Soldier that Survived Cancer Promoted to 2nd Lieutenant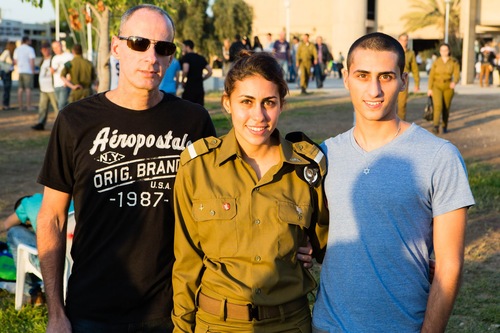 Rotem Chiprut, a cancer survivor and an Israel Defense Forces lone soldier (a member of the army without parents in Israel), last week was promoted to the rank of second lieutenant.
Chiprut, 20, arrived in Israel in August 2012 and enlisted in the IDF, becoming an infantry squad leader. But last year, in the middle of a training course, Chiprut discovered she had cancerous cells in her thyroid gland and had to set everything aside to go into treatment. "It simply came out of nowhere, out of the clear blue sky. I had to undergo a series of tests, an operation, and then recovery, but I knew I wanted to continue [army service]," she told Israel Hayom.
Rotem defeated cancer, but the next obstacle came from the IDF itself.
"After three months [in treatment] the army agreed to bring me back as a volunteer in a rear-echelon position," she said. "But I didn't relent. It was a difficult time. I'm a strong person, but I had moments where I broke down and cried, but I was determined to succeed. I went to numerous committees and demanded to be placed back in combat duty until they finally agreed, and now I've completed my officer's course."
Originally posted by JNS.
---
Keep up with every new Israel Forever story on Facebook and Twitter and encourage your friends and family to join in the conversation!